CAMPBELL, Calif., April 13, 2021 – WekaIO™ (Weka), the fastest-growing data platform for artificial intelligence/machine learning (AI/ML), life sciences research, and high-performance data analytics (HPDA), today released results from "The State of AI and Analytics Infrastructure 2021" study, which queried technology professionals about their current AI and analytics strategies.
The study surveyed over 500 participants across IT, data, and engineering functions about their IT architectures, frameworks, databases, spending, challenges, and more. Participants included individuals from North America, Europe, Asia Pacific, and the Middle East, with respondents from various industries such as healthcare, research, financial services, and government.
Among the key findings were:
86% of respondents have at least one AI initiative. Most companies tend to have 2-3 initiatives, while a few even had as many as 5 initiatives.
Use cases vary significantly by vertical, but the most cited initiatives were recommender engines, scientific visualization, and image recognition.
The approaches to AI vary, but research and government tend to build their own models that are customized to their needs, while commercial enterprises tend to use ready-to-consume models to gain a time-to-market advantage.
In general, 50% of the data used is self-generated, but other sources contribute.
While no respondents stated that they plan to be cloud-only, most expect a significant and increasing portion of their workloads to be in the cloud. Privacy concerns and the complexity of extending workloads to the cloud are the main headwinds toward additional cloud adoption.
Over half of the respondents are already using GPUs, and adoption of GPUs is especially high in the Automotive
The most significant headwind to the adoption of AI initiatives is the lack of data scientists, followed closely by a lack of budget and infrastructure to perform the AI.
"In a rapidly changing world where AI and analytics continue to make headway into how organizations source, manage and store massive amounts of data, we sought to take a snapshot of real-world uses to help develop strategies that can make a difference," said Ken Grohe, president and CRO at WekaIO. "The survey revealed that the biggest headwind to successful AI initiatives are too few data scientists and insufficient technology infrastructure, such as cloud adoption. Many of our customers use Weka to burst to the cloud for cost-effective, on-demand capacity or compute resources. The Weka File System (WekaFS™) can extend to the cloud seamlessly, which enables data mobility while eliminating data silos. So, whether your data is on-premises or in the cloud, your applications have access to all your data in a single, unified namespace. We hope the survey will be used by enterprises to see if their AI infrastructure approach is delivering the simplicity, speed, and scale they need."
Based on the study's results, experts at Weka suggest implementing AI initiatives sooner rather than later. To do so, companies should construct a plan for managing their data well ahead of their actual need to use it. Enterprises should also keep their AI investments well documented in order to measure their ROI or to compare whether they are spending too little or too much on their AI initiatives.
One way to address AI and analytics infrastructure needs is by deploying Weka's Limitless Data Platform™, which is built on the shareable, scalable, and distributed file storage system WekaFS™. Designed to help future-ready clients' data centers and enable digital transformation, the breakthrough WekaFS solution was architected to leverage the performance benefits of flash, high-speed networking, and compute acceleration technologies (like GPUs) whether the data resides on-premises, in the public cloud, or as a hybrid model. WekaFS stands out as a leading solution because it gives clients the leverage to get more value out of their compute resources, providing a full enterprise-grade solution with advanced security and full cloud integration.
Media Contact
WEKA Communications
media.relations@weka.io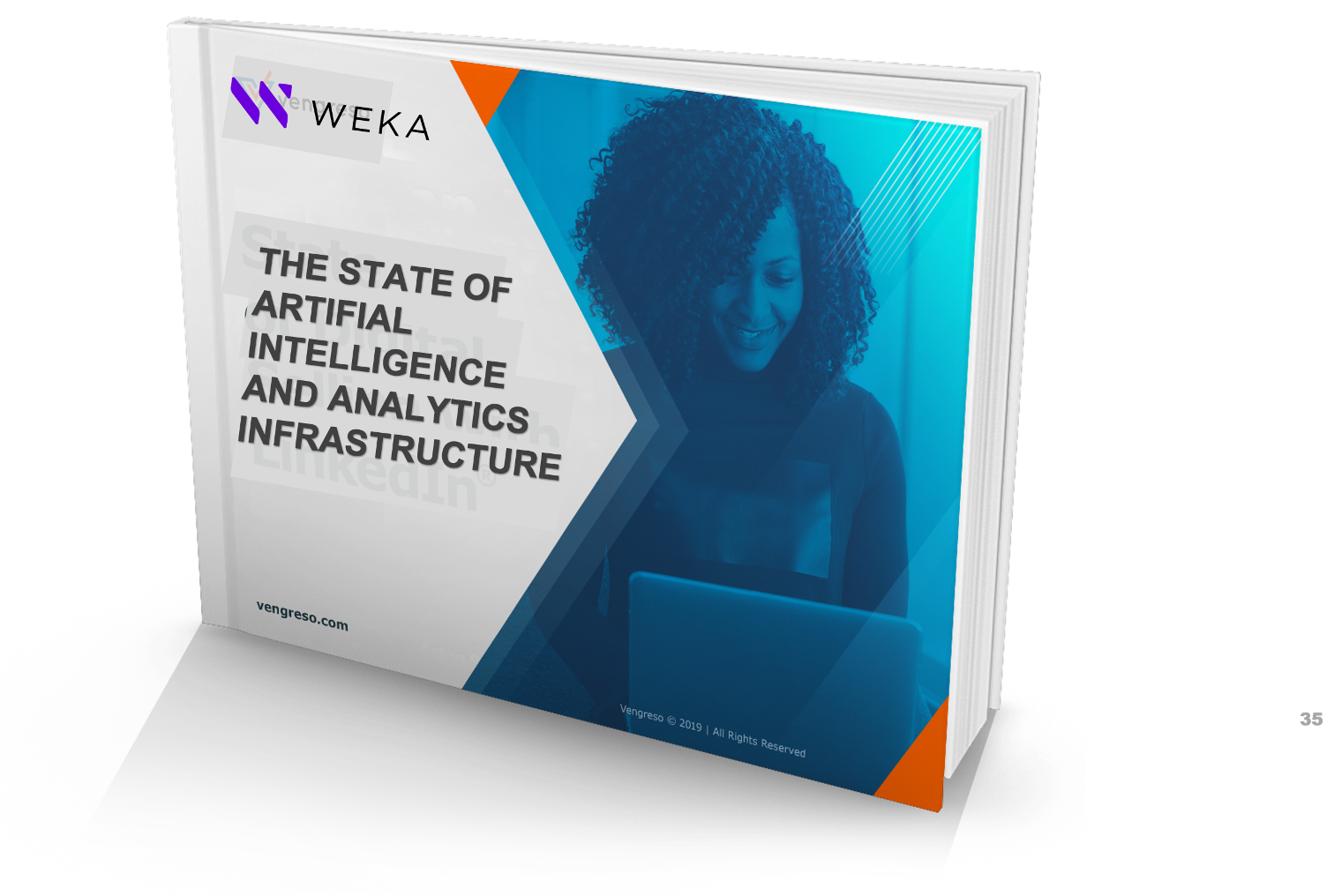 The State of Artificial Intelligence and Analytics Infrastructure 2021
Learn what your peers are doing to make their AI initiatives successful

Those interested in reading the full results of the study, including topics such as cloud initiatives, use of CPUs and GPUs, and impact of Covid-19 can register to download a copy at https://www.weka.io/report.
Additional resources:
About WekaIO
WekaIO (Weka) is used by eight of the Fortune 50 enterprise organizations to uniquely solve the newest, biggest problems holding back innovation and discovery. Weka solutions are purpose-built to future-ready the accelerated and agile data center. Optimized for NVMe-flash and the hybrid cloud, its advanced architecture handles the most demanding storage challenges in the most data-intensive technical computing environments, delivering truly epic performance at any scale, enabling organizations to maximize the full value of their data center investments. Weka helps the enterprise solve big IT infrastructure problems to accelerate business outcomes and speed productivity. For more information, go to https://www.weka.io
WekaIO, WekaFS, Weka AI, Weka Innovation Network, Weka Within, Weka AI logo, WIN logo, Weka Within logo, and the WekaIO logo are trademarks of WekaIO, Inc.