WEKA Xplorer
Partner Certifications
Get Certified with WEKA X Partner Fundamentals: Sales and Technical Xplorer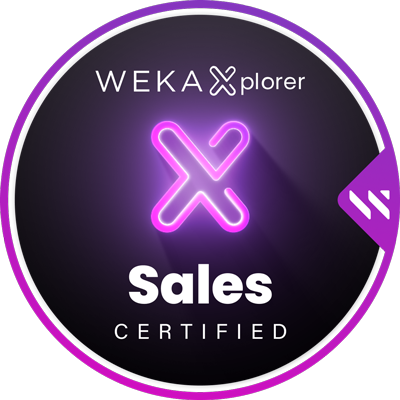 Become a Certified
WEKA X Sales Xplorer
Gain expertise in leveraging WEKA, the world's fastest data platform, to help customers optimize and accelerate their workflows. Empowers partners and sales professionals with essential insights and strategies for effectively promoting WEKA solutions and projecting its value proposition.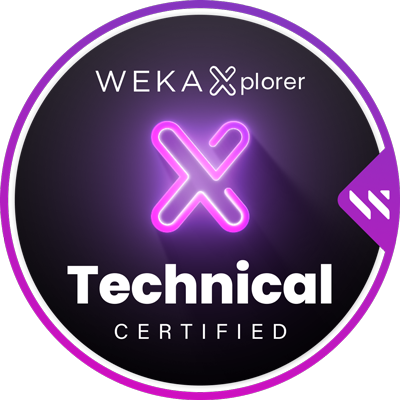 Become a Certified
WEKA X Technical Xplorer
Drive workload acceleration, cost savings, and unparalleled efficiency with an advanced technical understanding of the WEKA data platform. Position high-performance data solutions across diverse verticals, qualify opportunities in AI, ML, HPC and other high performance workloads, and deliver cuttingedge solutions that streamline your customers' operations.
Why Get Certified?
Accelerate your path to profitability
WEKA provides:
Comprehensive onboarding and enablement
Access to comprehensive business and technical training
Certification courses
Sales resources, such as WEKA's Proof of Concept infrastructure
The universal deal registration programs
Incentives to enhance profitability
WEKA X Premier Partners receive exclusive co-marketing benefits:
Generate awareness for WEKA solutions within your client and prospect base
Drive leads
Win new business
Through our revamped portal partners can:
Register deals
Create and submit quotes
Close deals
WEKA X Premier Partners will also benefit from a dedicated team of:
Account managers, Sales engineers, Enterprise solution architects, and Customer support
Show your badge
Those who successfully complete this learning plan will earn a WEKA badge and personalized certificate to post on social media.