The Weka Innovation Network fuels successful sales and distribution of the company's industry-leading file system software solution
CAMPBELL, Calif. – December 8, 2020 – WekaIO™ (Weka), the innovation leader in high-performance and scalable NVMe-optimized file storage, today celebrated the success of its Weka Innovation Network™ (WIN), a Global Partner Program. After only one year, it had a transformative approach to enabling channel partners to sell WekaFS in key markets such as life sciences, financial services, and GPU-accelerated technical computing in the enterprise, making it easier for customers to solve big problems in thein industry ultimately accomplishing their business goals through technology.
Launched in November 2019, WIN is a comprehensive partner program that delivers the resources partners need to be successful in delivering validated and trusted solutions that meet the performance demands of next-generation applications and workloads such as AI, analytics, and HPC. WIN now features an ecosystem of 102 partners—both selective resellers and large OEMs—working together to deploy WekaFS-enabled storage infrastructures that accelerate the most demanding workloads in the data center. This represents a 400 percent growth over the number of partners Weka had in 2018 and a surge in the number of new customers year-over-year, all of which are directly serviced through Weka's innovative channel program.
In recognition of the efforts of WIN members to Weka's success, the company recently honored its Partners of the Year 2020 across several categories. They include:
Partner of the Year: Penguin Computing
Reseller of the Year – North America: A-TRAC
Reseller of the Year – EMEA: Nephos Technologies
Top AI Innovation Partner of the Year: NVIDIA
Top AI Implementation Partner of the Year: HighFens
Top Integration Partner of the Year: Penguin Computing
OEM Solutions Partner of the Year: Hitachi Vantara
Top Server Partners: HPE and Supermicro
Among the keys to WIN's success is the enablement training for accreditation and technical certification bestowed to partners who successfully complete Weka's targeted curriculum in areas such as AI, financial services, and life sciences. By creating an environment where partners can further grow their competencies in these fast-growing industries, WIN partners have all the tools necessary to quickly and easily close sales with customers dealing with inefficiencies from their existing NAS, NVMEoF, and parallel file systems.
"There is a bit of a gamesmanship dance that often occurs between vendors and resellers that involves a company attempting to sign up as many partners as they can in an attempt to find sales opportunities, with resellers signing up for as many programs as possible so that they have access to the widest breadth of solutions they need to close any sale," said Scott Sinclair, senior analyst at Enterprise Strategy Group (ESG). "But Weka's WIN program changes the tune of this back-and-forth dynamic by strategically partnering with solution providers that have expertise and practices in the I/O intensive use case that benefits from a high-performance parallel file system. And Weka fills a critical gap in the solution providers portfolio—it's a win-win for both parties."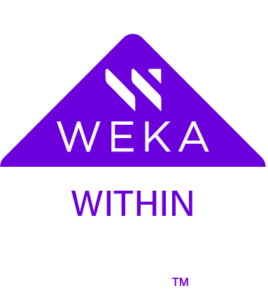 Validation and Certification Program
Save time and money validating your storage solution with WekaFS and the NVIDIA DGX A100

Ideally suited for performance-intensive workloads, such as artificial intelligence (AI), deep learning (DL), high-performance data analytics (HPDA), high-performance computing (HPC), and life sciences research, WekaFS runs anywhere on any standard server hardware, whether on-premises, in the cloud, or shared across both. This flexibility provides WIN partners with the opportunities to suggest hardware choices that best suit their customers' needs for accomplishing their business goals and/or achieving dramatic cost savings within their IT infrastructures.
Since launching the WIN program, Weka has earned recognition for its efforts from leading analysts and trade publications alike. CRN, the leading publication for IT channel news, analysis, and insight, has covered the company with multiple recognitions in 2020 including:
"Despite the challenges that the industry has faced this year, Weka and its partner ecosystem have flourished and continued to thrive thanks in large part to the diligent efforts of all of those who have joined the Weka Innovation Network since its launch last November focusing on key markets where WekaFS solves customer's problems," said Charla Bunton-Johnson, director, partner sales, development, and marketing at WekaIO. "Building a great product that fulfills the technology needs of customers across a variety of established and emerging industries is critical. But providing an environment where channel and OEM partners can best leverage our competitive advantages for their own successes, as well as ours, cannot be understated. We are pleased to see that the growth of our customer base is in direct relation to the success of our partners."
With four tiers (Innovator, Leader, Accelerator, and Catalyst), the WIN program enables partners to grow their top line by generating recurring revenue for performance-intensive use cases, as well as expand their practices and competencies. Each tier level unlocks additional benefits, ranging from partner portal access and sales training to co-branded campaigns, a dedicated account manager, and engineering solutions testing, among others. Those interested in partnering with Weka or are looking for additional information regarding the WIN program can visit https://www.weka.io/partners/ for additional details.
Additional Resources:
About WekaIO
WekaIO (Weka) offers WekaFS, the modern parallel file system that is used by seven of the Fortune 50 enterprise organizations to uniquely solve the newest, biggest problems holding back innovation and discovery. Purpose-built to unlock the full capabilities of today's accelerated and agile data center, WekaFS is optimized for NVMe-flash and the hybrid cloud. Its modern architecture handles the most demanding storage challenges in the most data-intensive technical computing environments, delivering truly epic performance at any scale, enabling organizations to maximize the full value of their high-powered accelerators—GPUs and FPGAs. Weka helps industry leaders solve big IT infrastructure problems and extract more value from their data faster. For more information, go to https://www.weka.io/parallel-file-system
WekaIO, WekaFS, Weka AI, Weka Innovation Network, Weka Within, Weka AI logo, WIN logo, Weka Within logo, and the WekaIO logo are trademarks of WekaIO, Inc.
Media Contact
WEKA Communications
media.relations@weka.io