Hybrid Cloud Strategy | Best Practices for Modern Data
September 7, 2021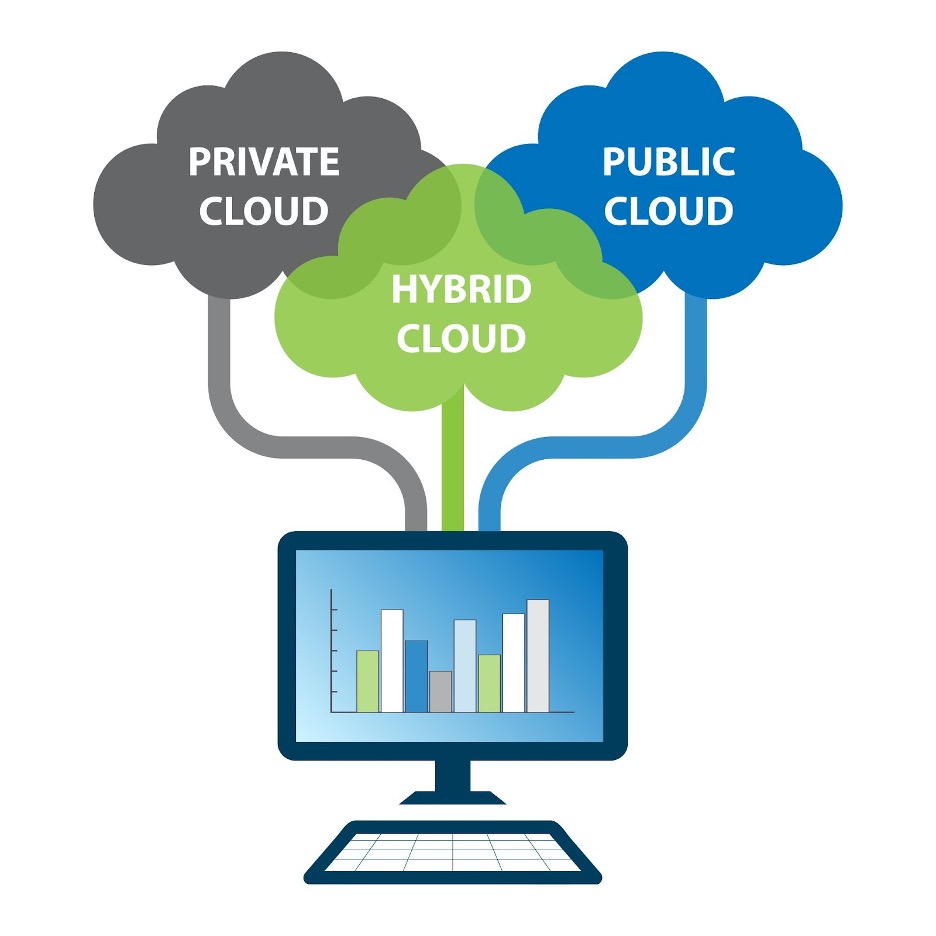 Whether you are considering building a hybrid cloud, or you have "accidentally" found yourself with one, we help you build a strategy to maximize its benefits.
What is a hybrid cloud strategy?
Hybrid cloud strategy is how to plan and build a mixed storage environment using both local and off-site resources, taking into consideration the best configuration for your organization's data needs.
What is a Hybrid Cloud Environment?
A hybrid cloud system is a combination of two or more distinct public and private cloud environments into a single storage and cloud computing environment.
The advantages of cloud infrastructure rest in the way it combines these two environments to leverage the following advantages:
Public Cloud: A public cloud setup is when you have multiple cloud users, or "tenants", sharing server space. Because server space is shared, operating and storage costs are typically less for these users. Additionally, because these resources are managed by a Cloud Service Provider (CSP), it's easier for users to use them on-demand and scale with their needs (within the confines of that provider).
Private Cloud: Private clouds are when a single user has complete access to cloud resources without sharing server space with other users. This can mean that the user has deployed and will manage a private cloud system on-premises or that they use single-tenant cloud servers from a CSP. Private cloud environments are more customizable to the needs of the user while meeting specific security and compliance requirements. A private cloud can also cost much more than a public cloud, both in terms of direct cost and overhead.
A hybrid cloud environment, therefore, uses different applications and hardware to combine public and private cloud functionality to manage data and cloud computing across both in a way that maximizes computing performance and flexibility while minimizing cost.
What is truly innovative about cloud storage and computing is that it uses platforms and infrastructure that streamline filesystems, workloads and workflows seamlessly across public and private environments. That means that high-performance computing (HPC) and cloud file systems essentially treat hybrid clouds as a single system for the purpose of daily use. This empowers cutting-edge applications utilizing complex data analytics, massive cloud computing tasks and sophisticated AI and machine learning.
What is a Hybrid Cloud Strategy?
Perhaps it goes without saying, but it bears saying regardless: hybrid cloud environments are complicated and complex. The benefits of these environments come from how they can work together–which means that you and your team or CSPs must coordinate storage, access, computation and resources across cloud environments to create a true hybrid experience.
Because hybrid clouds are becoming so popular for HPC applications, many organizations and their CSP partners are drafting hybrid cloud strategies to help them get the most out of their modern data architecture.
What is a hybrid cloud strategy? It is a strategic approach to your cloud environment that helps you determine what data will go where, what resources will be accessible through what channels, and how resources and information will be prioritized and automated.
That being said, a hybrid cloud strategy can cover several different aspects of your hybrid infrastructure:
Storage: Priorities here include high-performance access, seamless filesystems and databases across multiple cloud instances, and determining what data should be saved to private cloud infrastructure vs. public cloud infrastructure.
Performance: Practices here emphasize how to maximize cloud computing across key cloud resources for specific applications and optimizing workloads.
Security: This area includes managing the security of data-at-rest and in-transit at all points of use and maintaining compliance as data moves from private to public environments.
Operations: Actions to take here involve managing applications, infrastructure locations (on-prem, public, etc.)
Usage: Who is going to use these resources, and what for? What applications will be using what workloads (analytics, AI, etc.)?
Without a clear strategy, there is no reasonable way to get the most out of a cloud investment. If you already have a hybrid cloud setup, you may have some of these strategic priorities in place. Following that, you want to have your finger on the pulse of how your cloud infrastructure is serving you. That means leveraging analytics on performance, usage and workflows to help you understand the changes you need to make to stay aligned with your strategy, or modify your strategy to align with real world applications.
Building a Hybrid Cloud Strategy
Building a strategy around hybrid environments is all about orienting your organizational thinking around the scope of needs, future-proofing infrastructure and building flexibility and resilience.
Here are some important things to consider while building a hybrid cloud strategy:
Understand why you are using a hybrid cloud: Organizations that need high-density cloud storage with reliable disaster relief might have different needs and requirements than one that wants to launch compute-intensive machine learning algorithms. While a hybrid cloud can give you the flexibility to move between different arrangements, it's best to understand what your organization hopes to accomplish with the cloud.
Get a picture of what integrations you want to use: Different cloud platforms have different integrations with a variety of applications, utilities and tools. Understand that you most likely won't find an out-of-the-box solution that meets every single need you have. A platform that can integrate with a variety of utilities while performing critical storage and computation tasks, however, will serve you well.
Consider expert hybrid cloud providers: There are quite a few cloud providers, and many CSPs are narrowing their products and services around niche areas like high-performance computing, business intelligence applications, or business resiliency and disaster response. Find cloud partners that can speak to your needs and, following that, provide expert support.
Analyze workload demands and how hybrid cloud infrastructure supports them: If you're launching complex workloads on your cloud servers, you should have at least a basic understanding of the limits of those servers. Likewise, it benefits you to understand how hybrid cloud allows you to prioritize workloads across different cloud services, or how to leverage cloud bursting to shift computing tasks from private to public cloud infrastructure as needed.
Outline a culture of people to support cloud innovation now and in the future: While it sounds less than technical in terms of strategy, you must outline management and executive positions related to managing and optimizing your hybrid cloud over the next five, ten, or twenty years. These people should clearly understand the benefits and challenges of a hybrid system, how it fits within your business operations and how to manage evolving demands for new technologies. It helps to have someone evangelizing new ideas in cloud adoption even after you've established a hybrid cloud infrastructure.
Note that this list is not comprehensive. Every organization will have unique logistics, operations and requirements that will shape their hybrid cloud strategy, and it is important to plan your priorities and update them regularly.
Implementing Hybrid Cloud Infrastructure with WEKA
A hybrid cloud strategy will inevitably include discussing the technology you'll use to build your storage and cloud computing workloads. That's why WEKA has become the leading experts in flexible, cost-effective hybrid cloud infrastructure providing seamless storage and HPC across multiple cloud environments.
WEKA and the WEKA filesystem provide the infrastructure that your organization needs to optimize HPC across a hybrid cloud environment. With WEKA, you can drive AWS workloads with amazingly high performance for some of the most demanding computing tasks you can think of, including complex analytics and AI applications.
This approach includes on-demand access to resources through cloud bursting, rapid spin-up for new compute instances and S3 tiering for unlimited scaling capacity.
To learn more about WEKA and how we can help you use the cloud to build the next generation of innovative, data-driven technologies, make sure to contact us today.
Additional Helpful Resources
Hybrid Cloud Storage
FSx for Lustre
BeeGFS Parallel File System Explained
Learn About HPC Storage, HPC Storage Architecture and Use Cases
Isilon vs. Flashblade vs. WEKA
NAS vs. SAN vs. DAS
Network File System (NFS) and AI Workloads
Block Storage vs. Object Storage
Modern Data Architecture
WEKA Unleashes Its Blazingly Fast S3 Protocol Front End