The Industry's Fastest Onramp to The Cloud and AI Is About To Get Even Faster
Nilesh Patel. May 17, 2023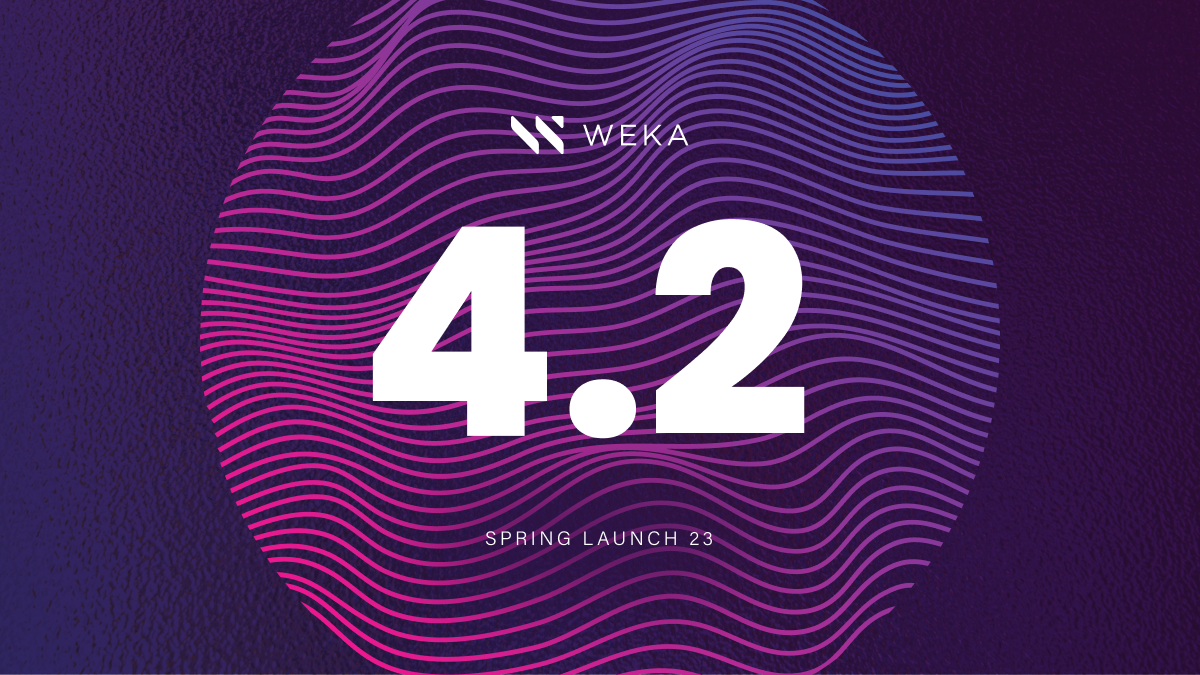 The use of AI/ML in the enterprise is seeing explosive growth with rapid expansion of use cases that are getting bigger, broader and more consequential. No matter which AI considerations your organization is most concerned with – privacy, ethics, sustainability, generative – to perform effectively, AI workloads require TONS of data delivered to GPUs through seamless and continuous pipelines.
We also know that traditional data infrastructure architectures simply can't support digital transformation engines like AI, which are powered by large language models and other next-gen ML algorithms. With macroeconomic conditions becoming ever more uncertain, familiar past themes are emerging for buyers scrutinizing potential IT investments – cost, simplicity, and time to market – yet don't want to be left behind as AI continues to propel competitive advantage across all industries.
With all this in mind, today we're excited to unveil the 4.2 release of the WEKA® Data Platform. Our latest release builds on WEKA 4's cloud-first and agnostic approach and WEKA 4.1's improvements for very high-performance scaling and parallelism to deliver new features and capabilities designed to help customers more rapidly realize value during these turbulent times while keeping their AI trains running on track and on schedule with the highest possible DataOps efficiency.
What's New in WEKA 4.2
WEKA 4.2 delivers even more affordable performance to feed AI and ML engines with advanced data reduction, which can lower storage costs by up to 50%. In the cloud, WEKA can deliver up to 10X performance over alternative first-party cloud solutions and scales up to run tens of thousands of containers for cloud-native AI and ML applications. It also is designed to be installed in as little as 30 minutes – accelerating customers' time to insight, discovery and, ultimately, the market.
Let's double-click on the features that bring WEKA 4.2 to life:
Enhanced Data Reduction
Advanced block-variable differential compression combined with cluster-wide data deduplication delivers data reduction at scale for an estimated cost savings of up to 6x for AI/ML training models, 3–8x for exploratory data analysis, and up to 2x for bioinformatic or large-scale media and entertainment workloads like visual effects (VFX).
Improved Azure Performance and Scale
WEKA offers the fastest file storage in Microsoft Azure with up to 6x performance improvement over market alternatives with better economics. WEKA 4.2 also fully supports Azure VM Scale Sets, so customers can auto-scale their storage up and down to control costs as workloads peak and recede.
Advanced Kubernetes Support
The new CSI-plug in adds persistent volume claim (PVC) snapshots and PVC clone features to provide better data management at scale for large-scale container deployments, particularly for next-generation transactional workloads such as NoSQL distributed databases, events, message processing applications, and large language model processing for generative AI engines.
Increased DataOps Efficiency with Efficient Client Management
The new capability makes data from multiple WEKA clusters accessible to a single client, alleviating the need for complex client management or data copies in data pipeline workflows and drastically improving the efficiency of data operations.
Superior Observability
The WEKA Home cloud monitoring platform now provides better observability for large-scale deployments, including improved filtering, anonymized analytics and usage data upload, and software upgrade history.
Accelerated On-Ramp with NEW WEKA Software Appliance
A new pre-packaged, software-only appliance that drastically reduces time to on-ramp by automating the installation of the WEKA platform on bare metal servers and streamlining technical support so customers can get started within as little as 30 minutes.
The WEKA® Data Platform enables enterprises to build high-performance, cloud-native applications and deploy them across core, cloud, and edge, allowing them to scale performance without complexity regardless of location. With WEKA and the improvements in version 4.2, any development, research, or organizations in various industry verticals with commerce-attached performance-intensive applications can get faster product development, quicker time to insights, and greater production capabilities more reliably and economically.
Upgrading to 4.2
WEKA 4.2 will be available at the end of May. Current customers can visit https://get.weka.io then to learn more about our 4.2 release and inquire about an upgrade path. To upgrade to version 4.2, you must already be at version 4.0 or higher.
More Information
Refer to the updated WEKA Architecture Guide for an overview of the WEKA Data Platform.
Version-specific release notes are available at https://get.weka.io.