More is More: Lenovo and WEKA's New Turnkey Solutions Offer Choice and Simplicity
Colin Gallagher. February 7, 2023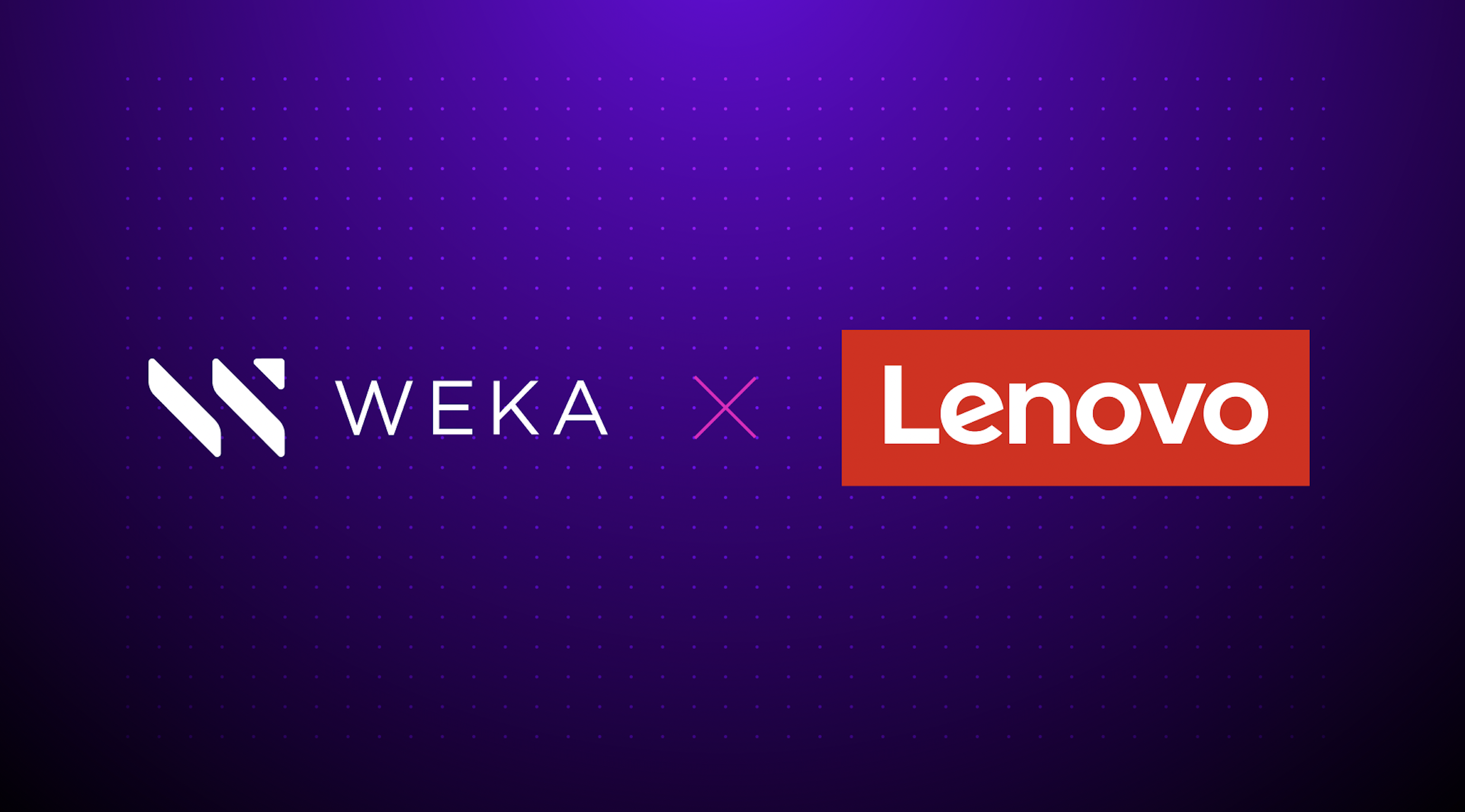 There is tremendous power in choosing a software-defined solution – it gives you maximum freedom to deploy on any server, in any cloud or a hybrid model based on your requirements. It's all about the flexibility to choose the infrastructure that best matches your business and other technical needs based on cost, performance, security, and compliance. The WEKA® Data Platform is a software-defined solution. When combined with your choice of hardware, it can be a powerful and affordable data platform for your performance-intensive and latency-sensitive workloads.
The WEKA Data Platform enables agile IT decisions. When chip shortages created long lead times for networking cards, WEKA quickly released a software update that broadened support for more cards allowing our customers to rapidly switch vendors and meet deployment goals. This is one example of the power of software-defined solutions, and the flexibility of choice.
But on the flip side there also is the paradox of choice; having many options to choose from – type and configuration of processor, kind of GPU, which NVMe drives, what networking types – can make choosing and deploying a solution harder. While having the flexibility to choose can give you a more customized solution, weighing those options can make for longer decision timelines.
Today, Lenovo and WEKA announced joint enterprise-grade solutions for next-generation data architectures that are dominated by throughput, IOPs, and latency-sensitive workloads in over 100 countries. New ThinkSystem SDS Ready Nodes with WEKA software will provide the industry's broadest configuration choices, offering customers the option to choose from the latest generations of Intel and AMD processors, NVIDIA GPUs, NVMe drives, and fast networking selections. And these will be available as validated WEKA Ready Node systems that can be quickly selected for all performance-intensive workloads – simplifying deployment, eliminating risk, and resulting in a faster time to production.
Lenovo and WEKA have engineered these solutions to provide maximum performance and reduced AI training times. These solutions include the Lenovo ThinkSystem SR630 V2 server platform, WEKA software, and NVIDIA networking. This combined solution is ideal for data-intensive applications, delivering 10x more performance than all-flash scale-out NAS systems and up to 3x more than locally attached NVMe SSDs. It delivers faster performance than a local file system and can push multiple high-performance network links to their limits with up to 40GB/s to a single client. With the Lenovo EveryScale Design Architecture for WEKA, performance scales linearly as the infrastructure grows, allowing for the most efficient utilization of all resources.
With Lenovo ThinkSystem servers and WEKA Data Platform software, you can take advantage of a turnkey solution that helps extract greater value from data. The solution allows you to start small and flexibly scale to meet your performance and capacity requirements.
The Lenovo ThinkSystem SR630 V2 server offers uncompromising performance, scalability, reliability, and density in a 1U form factor. At the core of the WEKA Data Platform is WekaFS, a POSIX-compliant file system that distributes both data and metadata evenly across the entire storage cluster to ensure massively parallel access. This enables the WEKA platform to reduce time to innovation by delivering more data to the applications that need it faster than any other available solution. With a single namespace that offers on-premises storage and cloud connectivity, the software delivers simplified storage management and data protection. ThinkSystem adapters provide Ethernet and InfiniBand connectivity to deliver 200 Gb/sec bandwidth in a single network port, the lowest available latency, and hardware offloads, satisfying even the most demanding application requirements.
The Lenovo and WEKA collaboration helps solve the paradox of choice – offering the industry's broadest configuration options and making them available as validated systems to simplify deployments and eliminate risk.