WekaIO Is a Visionary, Building a Path to Market Leader
Liran Zvibel. October 5, 2021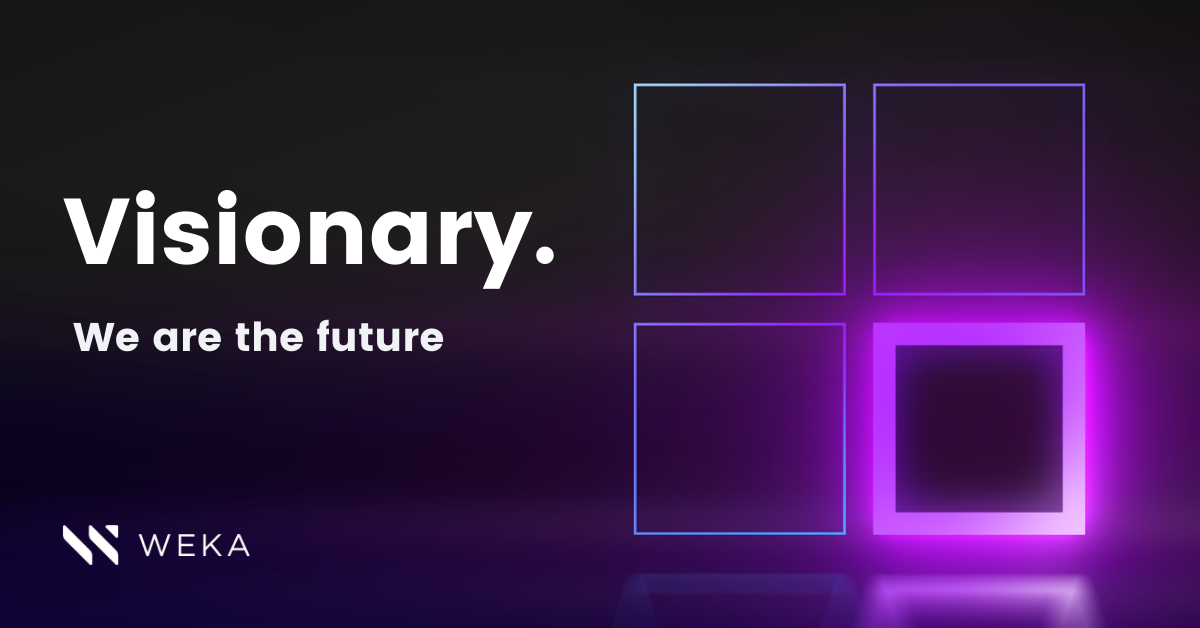 WekaIO Is a Visionary that's Building a Path to Be a Leader
I am delighted to share that Gartner® named Weka as a Visionary in the Gartner Magic Quadrant™ for Distributed File Systems and Object Storage.
The visionary category recognizes companies that understand where the market is going and have a vision for changing the market rules. On both these fronts, Weka has demonstrated completeness of vision. When we began building our software-defined distributed and parallel file system we knew that the legacy architectures that took us to 2020 were not going to scale to the level required to address the next 20 years. Weka went back to the drawing board, reimaging the algorithms, data structures, and control structures of the future and rewrote every single aspect of the file system from scratch, removing the limitations of the existing file system, making it run natively in the cloud and on-premises. We are the first to show shared-nothing architecture with limitless scale and performance, unifying file and object storage workloads while providing the highest grades of resiliency, availability, and durability for data.
CIOs care about DX (Digital Transformation) and its ability to allow their organizations to leverage cloud for elasticity while keeping data on-premises for its economic advantage, embracing Kubernetes and containers, and adopting GPU compute to increase efficiency. We built Weka to be the perfect data platform for all current and future DX initiatives. Weka is engineered to be a true software-based solution that runs on any server vendor hardware and is deployed by the server vendors, so now you can consolidate your compute and storage infrastructure purchase with a single vendor and leverage the cloud for elastic burst, or DR. Unlike many other vendors, a Weka system does not require any special tuning for optimal application performance and can seamlessly expand capacity and performance by adding more resources to the cluster in an uninterrupted on-line fashion. This, coupled with the ability to run multiple distinct workloads and different applications without interrupting\affecting each other, allows for unprecedently efficient use of resources.
WekaFS is the only file system that delivers both high throughput and low latency workloads and is optimized for performance by leveraging NVMe SSD media on-prem or in the cloud. It is unique in that in normal production it actually can extend the namespace to a standard S3 object storage for the best cost, economics, and native cloud scaling. It has been tested and deployed into production in conjunction with many of the object stores listed on the report including Scality, IBM, Dell EMC, Cloudian, Quantum, Red Hat, NetApp, and Hitachi Vantara to deliver the ultimate in scale and performance. The software is not dependent on any underlying specialty hardware making it easily deployable in the data center on standard server architecture as well as the public cloud. Gartner recognized Weka's strength in performance and scale in the critical capabilities rankings.
Weka's customer list would be the envy of any startup with 8 of the top Fortune 50 companies currently using the software to solve some of the world's biggest challenges. In fact, WekaFS is frequently deployed when other scalable file systems simply cannot cope with the demands of the application's needs.
Weka's software has been deployed in enterprise workloads including high-performance data analytics, GPU accelerated computing for the world's biggest AI\ML\auto-pilot projects, life sciences, EDA, media rendering, financial trading, and much more.
For example, we were able to get Genomics England's cost per genome x26 lower than before, we allowed an automaker to scale x100 its compute without changing anything in the architecture, and we enabled Atomwise to shrink 3 months of processing to 1 week on AWS.
On the go-to-market front, Weka has also changed the rules and has not tied itself to the traditional hardware appliance model. Instead, Weka has partnered with all of the major OEMs to deliver its software on industry-standard server architectures. Customers can purchase from their OEM of choice and have WekaFS delivered with the same white-glove experience they are used to. WekaFS is sold through Hitachi Vantara, HPE, Supermicro, Lenovo, and Penguin Computing. It is also available in the public cloud through the AWS Marketplace. While any other file vendor sells a proprietary hardware box and runs different software on-premises and on the public cloud, we are the only company to build a unified platform allowing customers to run their storage like the rest of their data center compute and buy from a single vendor, alongside enabling hybrid cloud and soon multi-cloud.
To qualify for inclusion in the Gartner report, companies must demonstrate significant industry traction across all three major geographical areas: North America, Europe, and Asia. Weka has clearly shown that it has both the depth and reach into major enterprises and is nearing an Exabyte of data under management. Yes! An Exabyte. Many long-established storage companies have not come near this level of deployment, and Weka reached it in 3 years.
Weka's Glowing Fans
In the Peer Insights review, WekaFS has achieved a 5-star rating based on 3 reviews. Here are some of the comments made by our growing customer fan base:
Great performance in an easy package
"Great support as needed via slack, stellar performance, straight forward setup that was quick and easy from unboxing to production. Easy pre-sales & sizing assistance, can start small & easily grow large"
A modern, fast, distributed file system that doesn't require a team of experts to set up
"WekaIO provides the fastest and most reliable distributed file system I have evaluated in my career"
To Wrap Things Up
It has been an exciting journey to this point for Weka, but we are only getting started. The company is expanding rapidly to meet the demands of the new modern workloads emerging in the enterprise. Our new-logo count is growing rapidly, and as we partner even tighter with the OEM channel, we are quickly seeing Weka replacing legacy technologies that cannot meet customer demands. We have offices and customer support organizations in the USA, Europe, and Asia to meet the growing global demand for WekaFS.
The Gartner Magic Quadrant report covers the period to early 2021, and we have made many more additions to the product as well as customer wins since that time. We look forward to the 2022 Gartner Magic Quadrant report to demonstrate our progress as we build a path to the Leaders Quadrant.
Thank you again to the team at Gartner for recognizing Weka as a Visionary, and thank you to our loyal customers who continue to help take the company from strength to strength.
Weka Named a Visionary
Magic Quadrant™ for Distributed File Systems and Object Storage
Disclaimer: Gartner, Magic Quadrant for Distributed File Systems and Object Storage, By Julia Palmer, Jerry Rozeman, Chandra Mukhyala, Jeff Vogel, 1 October 2021
Gartner and Magic Quadrant are registered trademarks of Gartner, Inc. and/or its affiliates in the U.S. and internationally and are used herein with permission. All rights reserved. Gartner does not endorse any vendor, product or service depicted in its research publications, and does not advise technology users to select only those vendors with the highest ratings or other designation. Gartner research publications consist of the opinions of Gartner's research organization and should not be construed as statements of fact. Gartner disclaims all warranties, express or implied, with respect to this research, including any warranties of merchantability or fitness for a particular purpose. This graphic was published by Gartner, Inc. as part of a larger research document and should be evaluated in the context of the entire document. The Gartner document is available upon request from WekaIO Gartner Peer Insights reviews constitute the subjective opinions of individual end users based on their own experiences and do not represent the views of Gartner or its affiliates.
Popular Blogs From Liran Zvibel