Riding the Waves of Data Infrastructure Evolution to Help Customers Stay Ahead
Liran Zvibel. November 7, 2023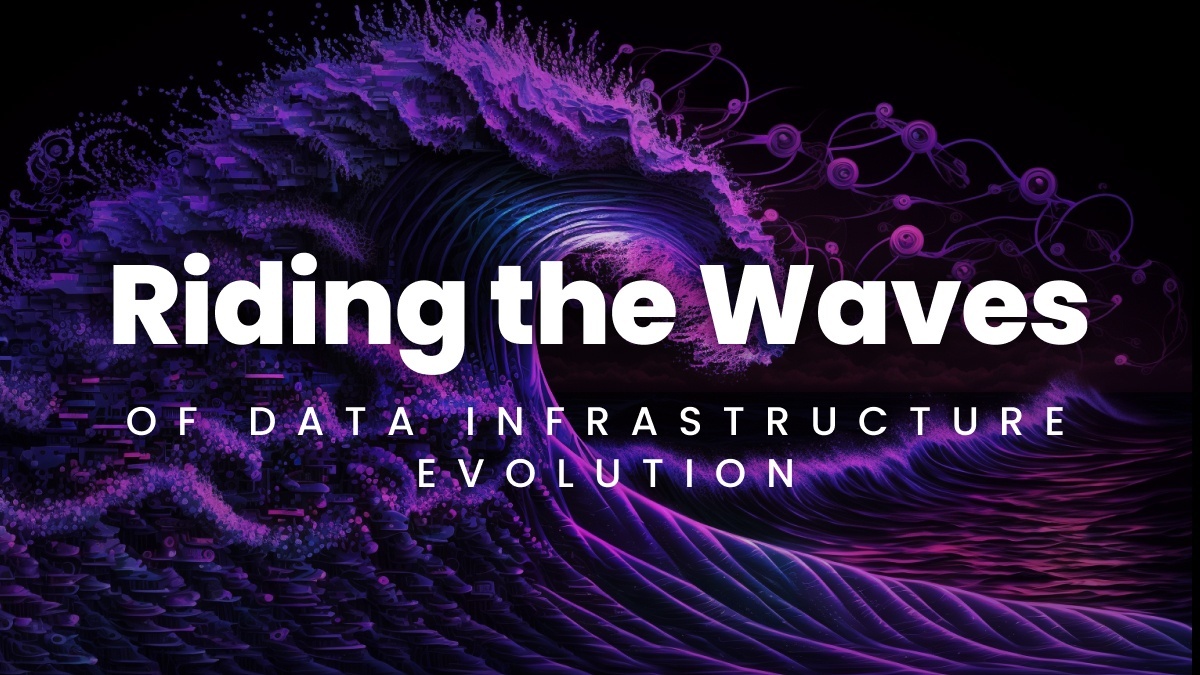 While it borders on being a truism, it's important to restate that technology doesn't stand still. Technological progress is continuous and relentless, with innovations and improvements occurring rapidly. While technology doesn't "stand still," the pace of advancement can vary across different fields and domains. Some technologies may evolve rapidly, while others may progress slowly due to various factors such as funding, regulatory challenges, or the complexity of the underlying science.
Data infrastructure – particularly for unstructured data – while not a stagnant technology, has historically only changed with incremental improvements primarily focused on adopting larger or faster storage media. But in the past few years, it has undergone a period of rapid advancement enabling new and significantly expanded business capabilities.
Although the fundamental infrastructure goals for unstructured data remain consistent – delivering widespread access, facilitating insights, and maintaining cost-effectiveness – a new set of demands has emerged. These demands include cloud-based accessibility, multi-location reach, concurrent utilization of diverse data types, and the necessity for seamless data movement across distributed data environments.
These are not evolutionary capabilities that can be easily added to existing technology. To put it bluntly, you can't just take a 1990s storage array and quickly port it to the cloud – even with a forklift. These capabilities have to be foreseen, architected, coded, and tested over the course of many development cycles. To "drop in" on these emerging waves of new demands with the right technology to meet those needs requires vision. Technology vendors cannot afford to stand still or just innovate incrementally if they want to remain competitive and relevant in the fast-paced tech industry and not wipe out.
Being a visionary means you are aiming to anticipate customer and market needs. Visionaries are often risk-takers, unafraid to challenge the status quo and chart unconventional pathways. At WEKA we have always prided ourselves on being forward-thinking and taking risks.
​​Our vision to help customers move from traditional, siloed data storage architectures to dynamic, frictionless data pipelines is resonating. So much so, that the concept we coined back in 2019 is starting to gain traction with a few of our competitors, who have also adopted it. We are no longer a category of one.
Cloud was originally seen as a location to run less demanding workloads. When we launched our high-performance cloud data infrastructure over 7 years ago in AWS we were ahead of the market. It took customers a few years to realize that they needed on-premises performance in the cloud for their data-intensive workloads. The cloud is now a primary location for training AI models and other demanding workloads.
When it comes to the data storage itself, traditionally vendors offered file and object data solutions separately. File has long been the standard for business purposes, while object has been considered a secondary tier for backup, archive, or longer-term deep storage. We heard from prospects and customers that they saw a decreasing difference between file and object storage – they wanted high-performance object storage and much more scalable file capability. And they wanted the same file and object capabilities in the cloud as they had in their data centers. In response, we developed a single solution designed to address and deliver the best of both capabilities in a comprehensive and flexible manner ahead of this adoption wave. One that supported multiple workloads and multiple protocols to fully support data pipelines in the cloud and on-premises and running in between locations.
The entire WEKA team is committed to helping solve our customers' biggest challenges today and anticipating what they may be in the future. When industry analysts recognize this commitment and take note it's icing on the cake. This year, for the third consecutive time WEKA was named a Visionary in the Gartner Magic Quadrant for Distributed File Systems and Object Storage.
In the realm of technology and business, being labeled as a visionary in the Gartner Magic Quadrant is a prestigious acknowledgment of a company's potential to shape the future. Gartner, a globally renowned research and advisory firm, annually evaluates and positions technology companies in a visual framework known as the Magic Quadrant. This tool categorizes companies based on their completeness of vision and ability to execute. The four quadrants include Leaders, Visionaries, Challengers, and Niche Players.
While we appreciate the recognition, we want to acknowledge that our remarkable customers, some of the world's most forward-thinking companies, played a crucial role in our journey. To our customers: We are grateful for your choice of WEKA to enhance your business, boost your research and exploration, and support your pursuit of pioneering outcomes in AI, ML, HPC, Life Sciences, Media and Entertainment, and numerous other industries.
If you are new to WEKA, we encourage you to download a complimentary copy of the 2023 Magic Quadrant report to see why Gartner has named us a Visionary for a third time.
Being a visionary is not just about a lofty vision—it's about translating that vision into action. It's about understanding market dynamics, anticipating trends, fostering innovation, and delivering value to customers. WEKA's continued recognition as a visionary company is a testament to our unwavering dedication to not standing still – to driving progress and leaving a lasting, positive impact on the world. We're proud to be at the forefront of shaping the future of our industry.