How to Build a VFX Studio In the Cloud in Under 45 Minutes
Barbara Murphy. May 27, 2021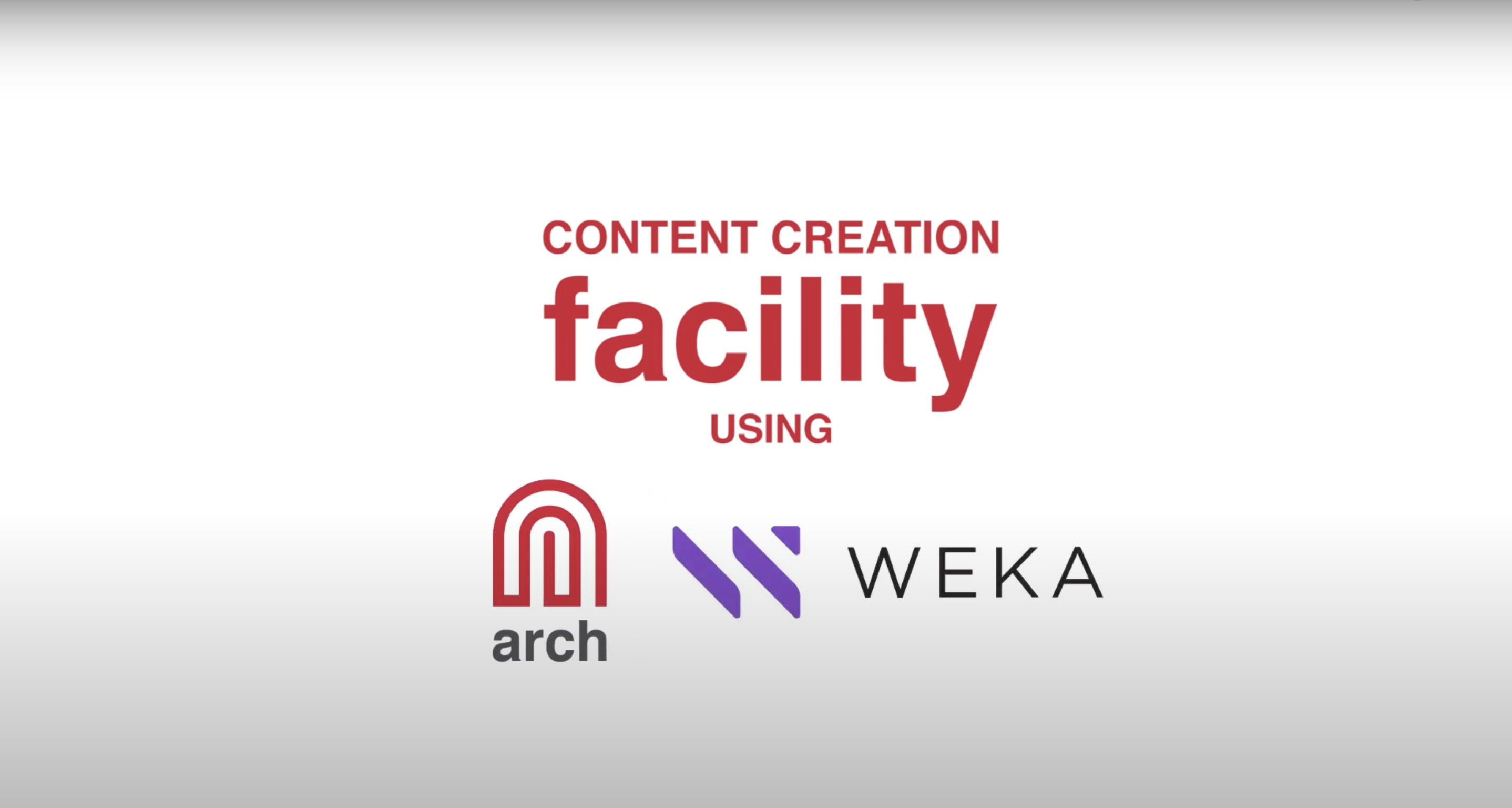 The audience demand for fresh engaging content is growing at an astronomical rate and the opportunity to participate in creation of exciting new content should not be held back because you simply do not have the resources to execute. The AWS cloud is an ideal place to start your digital media production journey. It offers many benefits over legacy on-premises solutions. These include:
No upfront capital expenditure to get started and no recurring capital expense
Infinite VFX compute and storage capacity at your fingertips to take on the biggest to the smallest project
Scale up and down creative capacity as needed (use only when you need it)
Set-up anywhere in the world and attract the best talent on a global scale
Predictable and measurable pricing/budgeting as you bid for new projects
Arch Platform Technologies provides the entertainment industry's only full cloud resource orchestration platform for visual effects, post-production, and virtual production. Arch has built out cloud resources for studios and post-production companies alike – from boutique studios born in the cloud to major VFX facilities with hundreds of user seats.
Arch's easy to use Software-as-a-Service (SaaS) platform allows users to seamlessly leverage the power of the AWS cloud to build a cloud studio simply and easily in less than an hour, and manage/scale for the life of the project. Resources can be spun-up on a global basis and licenses can be easily managed. Artists can work on-premises and connect to the cloud, or work remotely from their geographical location while precious user data remains safe and secure in the cloud.
Among the capabilities delivered from inside this powerful platform are:-
Remote Workstations
Render Farms
Licensing Servers
Studio Vetted Security
Storage Resources
Why VFX in the Cloud Makes Economic Sense
As we move to ever higher resolution video, the compute and storage demands go up exponentially. Increasingly artists are utilizing GPU based systems to speed up VFX projects.
The budget for large scale productions can run to millions of dollars of infrastructure investment for on-premises, but with the cloud you can use only when you need, and scale as big as your project needs only for the time you need.
The cloud enables studios to access artists on a global scale, taking advantage of tax incentives as well as accessing the best talent at the most affordable cost.
The costs associated with on-premises IT administration, data center leasing, power and cooling is no longer required to build a powerful studio, Arch Platform Technologies saves you money across the board.
Arch also offers a fully integrated, customizable and industry vetted VFX workflow pipeline for use in the studio environment or bring your own.
Tapping into the Speed and Power of WekaFS on AWS
Using Arch Platform Technologies in the AWS cloud is like having a virtual VFX team at your fingertips. Artists have incredibly flexibly in the applications and systems they use without being limited by what is in the in-house data center. Arch offers a variety of instance types on the Amazon Elastic Compute Cloud (Amazon EC2) and artists can take advantage of GPU accelerated compute such as NVIDIA T4 GPUs which can speed up rendering times by as much as 20x.
Data security is always a concern for content in the cloud, and the threat of theft or ransomware is real. Arch takes full advantage of the security features provide in the cloud and tightly integrates into their orchestration platform.
The economics are compelling, but the leap from on-premises to the cloud is daunting. Users have to learn new terms like Availability Zones, Regions, instance types, VPCs, AIM, AMI, SSH keys, Sub-nets…..the list goes on. Setting up instances, knowing which ones to pick from the hundreds offered by AWS is daunting, not to mention dealing with the storage resources and performance demands. This is where Arch Platform Technologies makes the difference. The Arch Platform takes care of the orchestration of AWS services so artists can focus on just the creative part.
One of the most challenging and frustrating parts of moving to a virtual studio is the potential loss of the real-time experience that artists get from their desktop or on-premises shared storage systems. Artists and animators want to experience as close to real-time feedback as possible and with the wrong infrastructure choice, cloud latencies can impact performance.
Arch Platform Technologies has teamed with Weka to offer WekaFS, the fastest multi-protocol compliant file system on the AWS cloud. WekaFS delivers very high streaming bandwidth to the most demanding applications such as Autodesk Flame, while maintaining low latency between the workstations and the storage system. WekaFS has demonstrated it has the ability to main performance and keep up with high frame rates and high bit-depth workflows. The following customer commented sums up the power of Weka's high performance storage system on AWS.
"The ability to just hit 'play' on Autodesk Flame in front of a customer and display uncompiled or unrendered content without a hiccup, has been a pipe dream within the industry for a long time—and being able to do that from centralized data on Weka is a is a huge win for us."
The infrastructure required to create realistic 3D-animation or visual effects vary dramatically from project to project and studios frequently struggle to meet infrastructure demands between peak and off-peak work periods. With Weka storage, creative studios can take on bigger projects with more aggressive timelines without having to purchase more storage capacity up front or suffer the delay in waiting for installation. With this joint solution the business economics have shifted from an up-front CAPEX model that has to be depreciated over three years, to an OPEX model where each project expense can be directly funded from the contract. This joint solution allows a studio to scale its storage infrastructure and storage bandwidth to meet the needs of the project ensuring all of the infrastructure resources are fully utilized.
WekaFS offers a multi-protocol POSIX-compliant file system with full file shareability and file locking across different operating systems. Windows, Mac, and Linux users can access and share a single project set allowing for easy collaboration among creative teams.
Additionally, WekaFS has a rich feature set including snapshots, encryption, quotas, and much more.
The Weka Limitless Data Platform is comprised of a high performance NVMe based tier and an S3 data lake, all pooled together into a single project namespace. Its non-volatile memory express (NVMe) flash tier supports Amazon Simple Storage Service (Amazon S3) for high performance and cost optimization. With WekaFS, artists can easily add storage capacity to the studio resources so no project is "too-big" to work on. With features like auto scaling groups, the storage cluster NVMe performance tier can be increased for peak demand and shrunk back down when the project is complete. With its powerful snapshot capability, projects can be saved to S3 for long term archive. Weka's unique snap-to-object feature provides a point in time back-up should there be an infrastructure or AZ failure.
The Arch Platform allows users to configure storage resources from inside the console and it can be expanded as needed. The combination of Arch Platforms and WekaFS deliver outstanding performance and flexibility to any artist making the making the infrastructure invisible to the artists so they can focus on creation.
See what Arch Platform Technologies Customers have to say:-
"Arch is the best thing that's happened to movies in the last five years. The Arch platform allowed us to save $1.2M or 65% on the VFX budget for our first film UNHINGED, starring Russell Crowe. The savings and flexibility are too good for us to do it any other way. We will be adding Arch to our post-production efforts on all of our upcoming movies."
—Mark Gill, CEO of Solstice Studios
"The Arch Platform is a no-brainer for us. The ease of setting up new workstations and users allows us to add new artists quickly as needed. And the seamless coordination between workstations, storage and delivery using AWS resources means a drastically smaller IT budget for us and less time spend worrying about networking and security"
—Joe Sevilla, VFX supervisor and co-founder of Track VF
"I wanted to ensure that FatBelly had a cost-effective, scalable and current solution. This is where the cloud platform we implemented through Arch Platform Technologies really shines….FatBelly was definitely affected buy the [COVID] shutdown. But due to our cloud platform we were able to seamlessly commence working from home immediately, without interruptions.
—Shannan Louis, Head of Studio, FatBelly VFX
To view learn more about Arch Platform Technologies and WekaFS, view the following overview video and see how easy it is to get high performance visual effects studio-in-the-cloud in under 45 minutes.
To learn more about Arch Platforms contact hello@archpt.io
Additional Helpful Resources
WekaIO Integration Partnership with Arch Platform Technologies Allows Customers to Build a Studio in the Cloud in 45 Minutes
Cloud File System
Solution Brief: Cloud-Based Post-Production Infrastructures with WekaIO and Amazon Web Services (AWS)
Build a digital studio-in-the-cloud with Amazon Nimble Studio and WekaIO
Amazon Nimble Studio