Top X Things You Need to Know About WEKA X
Colin Gallagher. February 17, 2023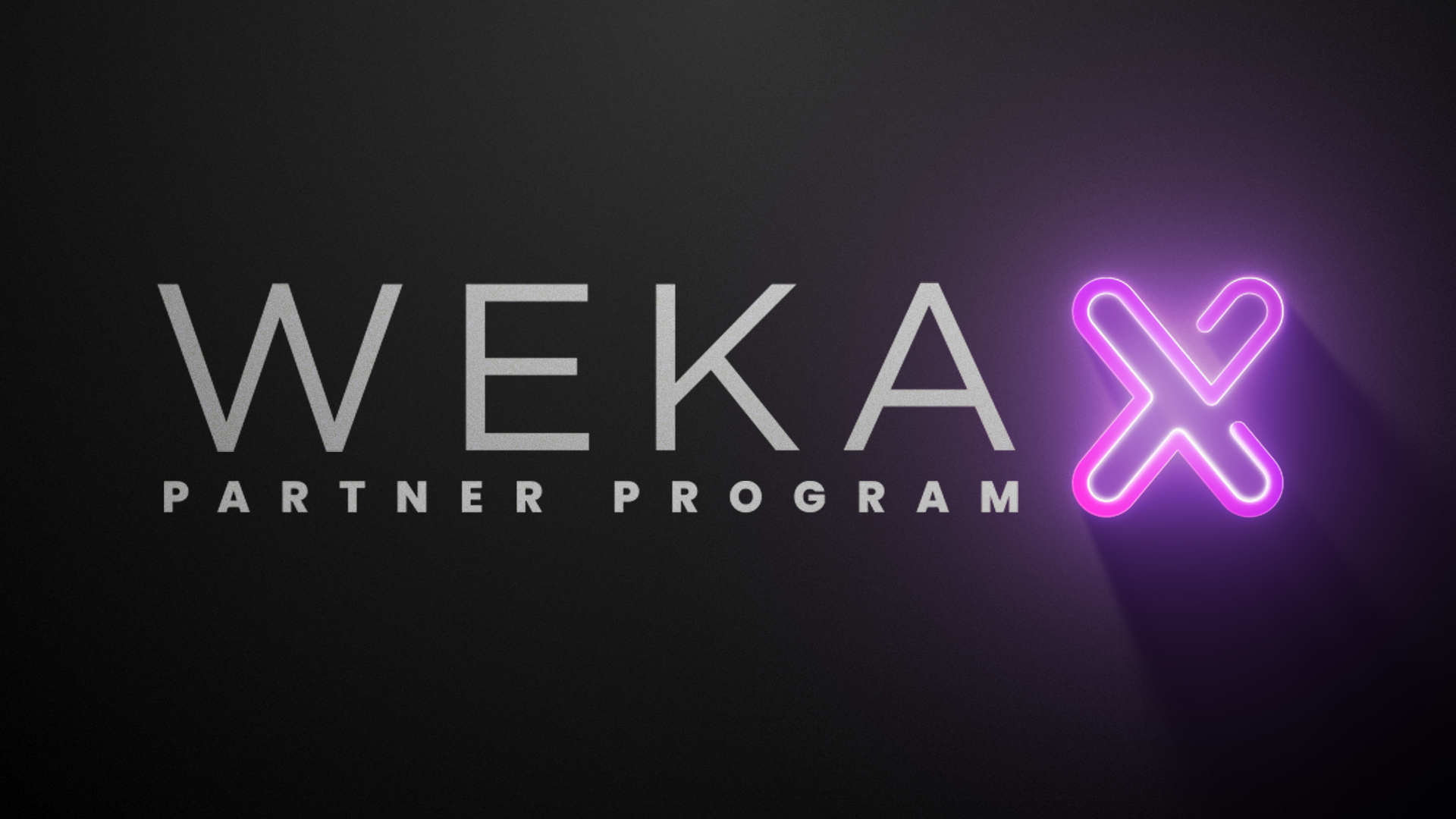 Today we announced the launch of our new global channel partner program – WEKA X – that lets our value-added resellers (VARs), system integrators (SIs), and managed service providers (MSPs) take advantage of a comprehensive toolkit of training, certifications, exclusive pricing, and incentives to streamline deal registration and help to build a profitable business with WEKA.
I am super excited about the program and the feedback from our partners who have previewed it and could go on forever about the benefits and details. And since "X" is a long-standing way to represent the number 10, I decided to let "X" both guide how I told you more about the program and be the star of the post.
X. The "X" in WEKA X stands for, wait for it…
I keep getting asked about the "X" in WEKA X and it's a simple answer: X factor. WEKA is the X factor partners need to get deals done. The WEKA Data Platform provides an advanced architectural approach that can be the difference for companies trying to accelerate their business, and for the resellers helping those companies transform how they approach these workloads. The WEKA Data Platform was born in the cloud and is the only data platform that can seamlessly and sustainably meet the performance and scale demands of next-generation workloads on-premises, in the cloud, at the edge, and in hybrid environments.
IX. Customers are at a X-roads and need help
We are at a crossroads where organizations of all sizes have significantly increased their investment rate in next-generation technologies such as AI, ML and HPC to solve challenges, fuel research and discovery, and innovate new business models. But they are struggling with where to invest. Gartner, for example, estimates that 85% of AI projects fail. WEKA brings a data platform combined with the expertise of our channel partners to dramatically reduce the risk on these projects and deliver successful outcomes for customers.
VIII. Legacy approaches are X_X
Traditional infrastructure, architectures, and data management approaches can't keep up with the requirements of these next-generation applications and workloads and are one of the reasons for the failures mentioned above. This is paving the way for a full-stack overhaul (CPU to GPU, VMs to containers, on-prem to hybrid cloud, etc) that presents a significant opportunity for the channel.
VII. It's all about Xceptional customer outcomes
To help customers evolve into AI-driven organizations quickly and build core-to-edge-to-cloud data pipelines, partners need new technology, education and training. At WEKA, we have a proven track record of bringing technology to customers that is highly impactful to their operations and infrastructure. WEKA X now pulls extensive partner expertise into the equation to help de-risk everything from purchasing and architecture to planning and deployment, and to help understand what is needed to create the best outcomes.
VI. Xtreme opportunity
AI adoption has skyrocketed over the last 18 months. Previously only the largest companies were focused on AI, but now companies of all sizes are taking on AI projects. AI spending in the United States is projected to double by 2025 to $120 billion. WEKA's expertise in enabling some of the most successful AI, ML and HPC solutions will help our partners open the doors to new opportunities with customers.
V. What is the f(X)?
In math and common parlance, "x" can represent the unknown. But not with WEKA X, where the function of "X" is to stand for all the education, tools, training, and more that we provide our partners to help them deliver successful solutions built on WEKA for performance-intensive workloads such as AI and HPC.
IV. eXascale solutions
WEKA is known for performance, purpose-built for the most extreme and demanding workloads on the planet. But did you know that the extreme "Impossible" workloads are also typically characterized by massive scale? Being able to handle exabytes of data with billions of files accessed by thousands of servers is a new challenge as data grows exponentially. WEKA partner expertise in these areas is critical to making these exascale projects successful.
III. Solve for X where Y = great partners
WEKA X is designed to help partners and customers be as successful as possible. By ensuring partners have comprehensive training and are capable of delivering top-notch solutions – and outcomes – the opportunities for partners to grow are fantastic. Customers reap the benefits as well by being able to choose best-of-breed expertise on solutions for infrastructure as well as applications and code that are integrated into customer workflows.
II. X2: The power of two
There is power in numbers, strength in numbers, and success in numbers. WEKA X not only represents a new and exciting program for our partners, but it enables the power of both WEKA and our partners' teams to provide customers the benefit of our combined experience with and knowledge of cloud, hybrid, and on-premises solutions. X to the power of 2 is focused on our customers' continued success to meet and exceed their goals and objectives for their organizations.
I. X marks the spot for success
In addition to being an ode to X, this is a set of X reasons why the WEKA X Partner Program delivers an optimized partner experience to help our resellers take advantage of our game-changing WEKA Data Platform and the tremendous market opportunity for compute-intensive workloads. WEKA X is an important step forward in making it easier for partners to get WEKA into customers' hands and make them successful.