Turning the Corner into a Data Platform World
Colin Gallagher. August 9, 2023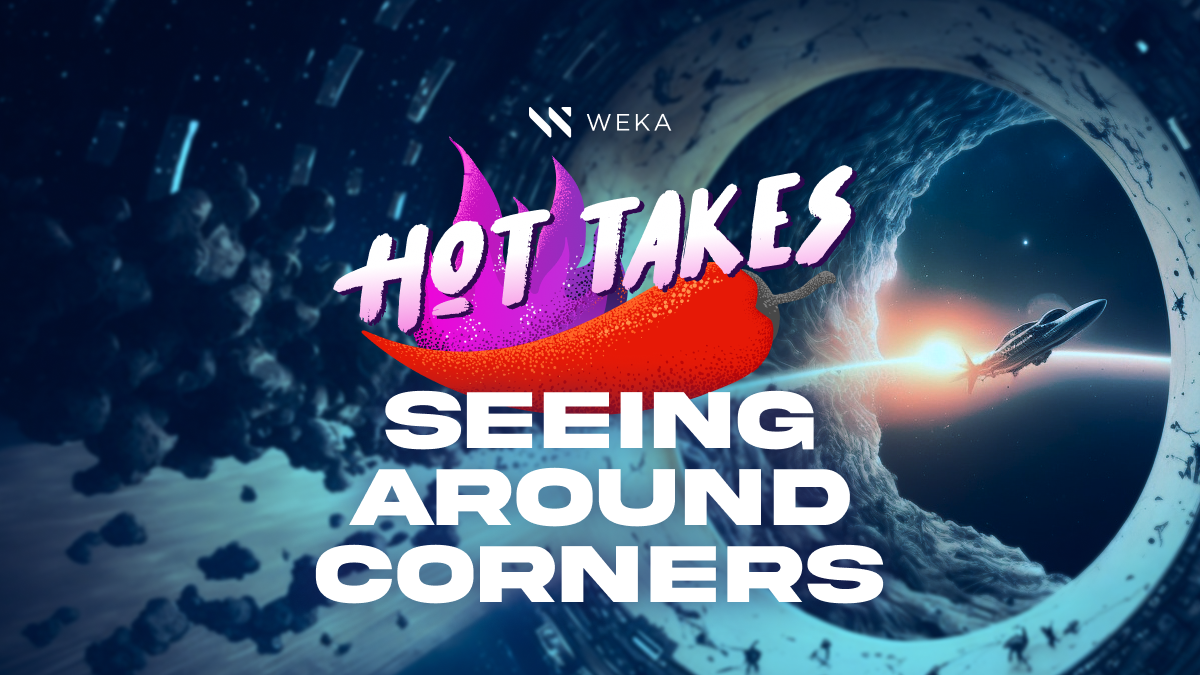 To be a successful innovator, you need to be able to see around corners and spot disruptive inflection points developing before they become market trends. You must possess a vision for what could be, confidence in the opportunity before you, and the passion and conviction in your ideas to take risks no one else is willing to take to see them through.
Almost a decade ago, WEKA's founders saw that the powerful combination of commercial off-the-shelf NVMe SSDs, fast networks, and a software-based solution would be necessary to serve data-hungry GPUs driven by the rise of high-performance computing (HPC) and artificial intelligence (AI) and machine learning (ML) workloads in the enterprise.
The solution they envisioned was a new level of performant infrastructure that is broadly available to any enterprise to implement that would be cloud-native software, interoperable with market-validated technologies (COTS), and among the most performant, low-latency solutions commercially available on the market. It would become a radically new data platform architecture for AI, machine learning, and other performance-intensive workloads.
Born in the cloud, first on AWS, and then shortly made available on-premises, the WEKA® Data Platform has continually delivered "improved experiences and performance for AI workloads on-premises and in the cloud." Last year, we released the fourth generation WEKA platform, with the ability to run in all major public clouds: "WEKA Unveils Industry's First Multicloud Data Platform for AI and Next-Generation Workloads."
The simplicity, speed, and scale of the WEKA Data Platform combined with compute infrastructures powered by expensive and data-hungry GPUs have proven to be a perfect match for customers looking to achieve real results and business outcomes in any cloud and on any server.
Our vision to help customers move from traditional, siloed data storage architectures to data platforms with dynamic, frictionless data pipelines is resonating. So much so that the concept we coined back in 2019 is gaining traction with competitors who have also started adopting it. That's good news for us – WEKA is no longer in a category of one.
Last week, VAST Data was the latest company to turn the corner, validating our view that legacy storage architectures are inadequate to support AI and other compute-intensive workloads and that data platforms are the future. Seven years after its inception as a hardware company, VAST is now purportedly offering a software data platform "available in any public or private cloud data center." Sound familiar? That's because it is.
We'd like to offer them a warm welcome to the neighborhood. When others follow in your footsteps, adopting the exact same language and market positioning you've been using for years, it's great validation that you've had it right all along.
A data platform is an integrated, end-to-end solution that holistically supports an organization's data management needs through every step of the data lifecycle. It is a multi-tenant, multi-workload, multi-performant, and multi-location solution, designed to support all the data a digital organization uses, regardless of where it's generated or stored. A data platform must also support data liquidity – frictionless data movement across edge, core, cloud, hybrid and multicloud configurations.
According to the Enterprise Strategy Group (ESG), "Data management teams require new capabilities to effectively harness and extract value from expansive volumes of data culled from a growing number of sources. The goal is to reach a maturity level where insights are delivered in real-time to keep pace with the operational needs of the business, innovate faster, and build competitive advantages."
These capabilities can only be made possible by software that's capable of running in multiple locations and bridging massive data pools. Simply rebranding a traditional storage array does not make a data platform, nor does taking on-premises hardware and co-locating it in the cloud. These approaches will only create new data silos and bottlenecks.
Welcome to the neighborhood around the corner
It's understandable why other vendors are following in WEKA's footsteps. According to a recent study by ESG Research, 93% of organizations plan to increase their spending on data platform technologies over the next 12 months. While the flattery of imitation is nice to receive, the results our customers are achieving is what drives WEKA to continually reach higher. The WEKA Data Platform is now in its fourth generation – offering the best data platform solution on the market to our customers and partners.

In a recent Economic Value study, ESG Research ultimately concluded that "you can accelerate your data insights up to 10x while lowering your data footprint and overall data costs with WEKA." We're so confident in the WEKA Data Platform's performance and cost advantages that we recently launched a Guarantee Program to allow customers to try it – risk-free – to see for themselves what it's capable of delivering.
We're glad to see other vendors coming to the space. After all, you can't have a market of one and we believe healthy competition ultimately results in a better product and outcomes for our customers. We look forward to watching how vendors, like VAST, attempt to turn the corner and evolve from single data center hardware solutions into multicloud software solutions to capitalize on the growing need for data platforms.