The WEKA Guide to AWS re:Invent 2022
Phil Curran. November 17, 2022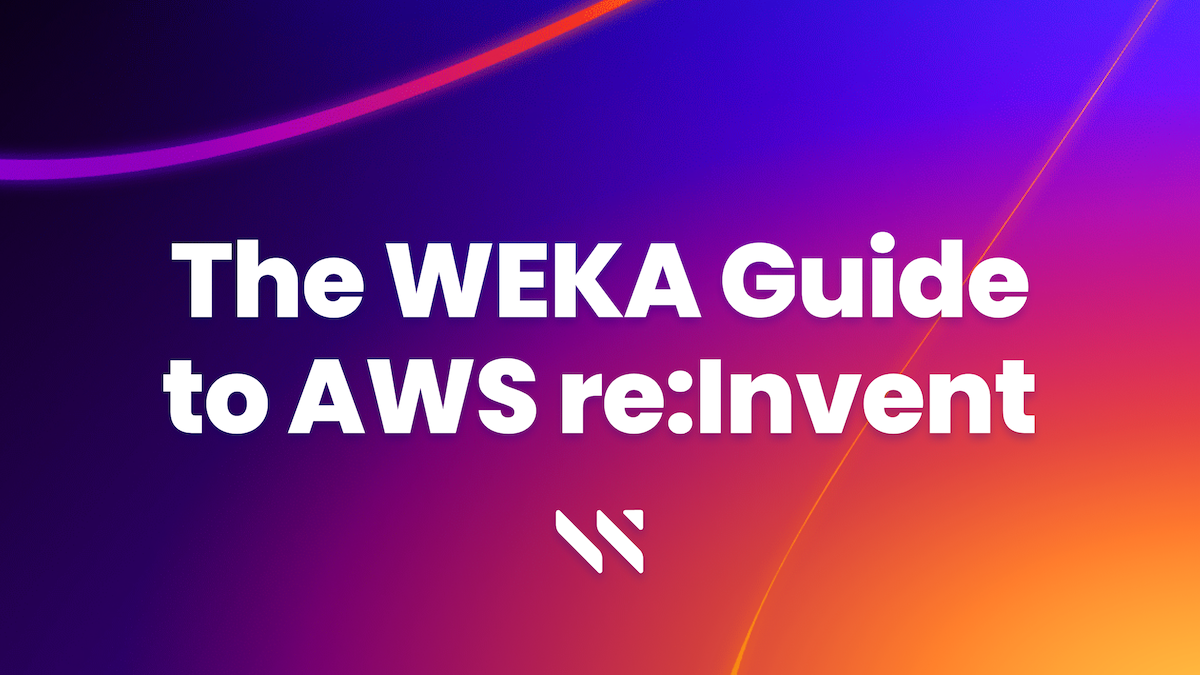 It's that time of year again, when we gather with family and close friends and celebrate all the things we have to be thankful for over the last year. For many of us in the tech world, I speak of course about AWS re:Invent, which is happening Nov 28 – through Dec 2 in Las Vegas.
This year, I'm thrilled to be joining Team Purple to attend my eighth re:Invent conference (second as an AWS partner). We have a ton of fun and educational activities we're planning for our customers while we're at re:Invent, and I wanted to take a minute to share those details, so you have a one-stop shop for all the WEKA related activities happening at re:Invent. Also, keep reading and I'll share my own high-level priorities for re:Invent this year.
If this is your first time attending re:Invent, I strongly suggest you check out the excellent AWS re:Invent 2022: How to re:Invent intro video from the AWS re:Invent as a great place to get started. Also, this quick re:Invent "Guide of Guides" gives you a pretty good overview for what's happening, and all the obligatory advice like wear comfy shoes (I average 3-4 miles of walking every day), drink lots of water (it's Las Vegas!), pace yourself (again…it's Las Vegas!), etc.
WEKA at AWS re:Invent
This year, the WEKA team will be at AWS re:Invent in full force. Our sessions and booth will be showing how the WEKA Data Platform gives you the performance and scale you need to run your demanding applications in the cloud and do it economically. We'll also be talking about how WEKA's exponentially more efficient approach to resource utilization enables customers to both reduce their cloud bill and be more energy efficient.
If you have questions about WEKA and what it can do for your organization, stop by the re:Invent Expo Hall, booth #4045 (it's easy to find right next to the AWS Partner Network area).
You can also schedule a meeting with our experts to go deep on our integration and start to plan how you can use WEKA to enable more workloads on AWS.
On Thursday, Dec 1, our own Pruitt Chamness and Baris Guler from Clovertex will give a talk on "Faster drug discovery design with WEKA on AWS". In this lightning talk, you'll learn how you can accelerate your drug design workflows using the WEKA data platform and Clovertex's services on AWS.
Also, be sure to unwind and swap stories with other WEKA customers on Tuesday evening at our Top Golf event.
What to get excited about at re:Invent 2022
I usually advise people to skip the keynotes since they will be available for streaming by the end of the conference. However, if you attend one keynote, make it Monday Night Live with Peter DeSantis. It's one of my favorite talks every year as one of the most technically insightful talks about how AWS thinks about building infrastructure. Peter does a great job diving deep on important topics like resilience, silicon innovation, and sustainability. Also, be sure to join Mai-Lan for her Storage Leadership session, it's usually excellent. And finally, here are a few other sessions I'm excited about and encourage you to attend:
AWS storage innovations at exabyte scale (STG221-L)
Deep dive on accelerating HPC and ML with Amazon FSx (STG343)
File storage for builders and data scientists on Amazon EFS (STG216)
How to maximize HPC productivity, performance, and portability (PRT220)
The convergence of HPC and ML on AWS (CMP326)
Best practices for high performance computing in the cloud (CMP305)
Cloud filesystem in studio workflows: A Netflix Drive case study (NFX203)
Some final words of advice.
Leave space in your schedule for sessions that haven't been published yet. Every year at re:Invent, AWS launches a host of new services and features. As these launches happen during the event, new sessions are added to the session catalog. So be sure to leave a bit of flexibility just in case there's a new session added that is important to you.
Reserve time to explore the quirky side of re:Invent. I once heard re:Invent described as the world's largest science fair for software – and it fits to a tee! In addition to the typical session content, on the learning side, there are AWS Gamedays, AWS Jams, and Builder Labs. There's a 5K race for folks who are up for an early morning run. Network with AWS experts through the new PeerTalk program.
Be sure to leave some energy for Thursday night and the AWS re:Play party. It is an evening unlike any other in tech and not to be missed.
Hope to see you there!