(More) Performance, Scale, and Reliability for AI Workloads
Colin Gallagher. November 21, 2021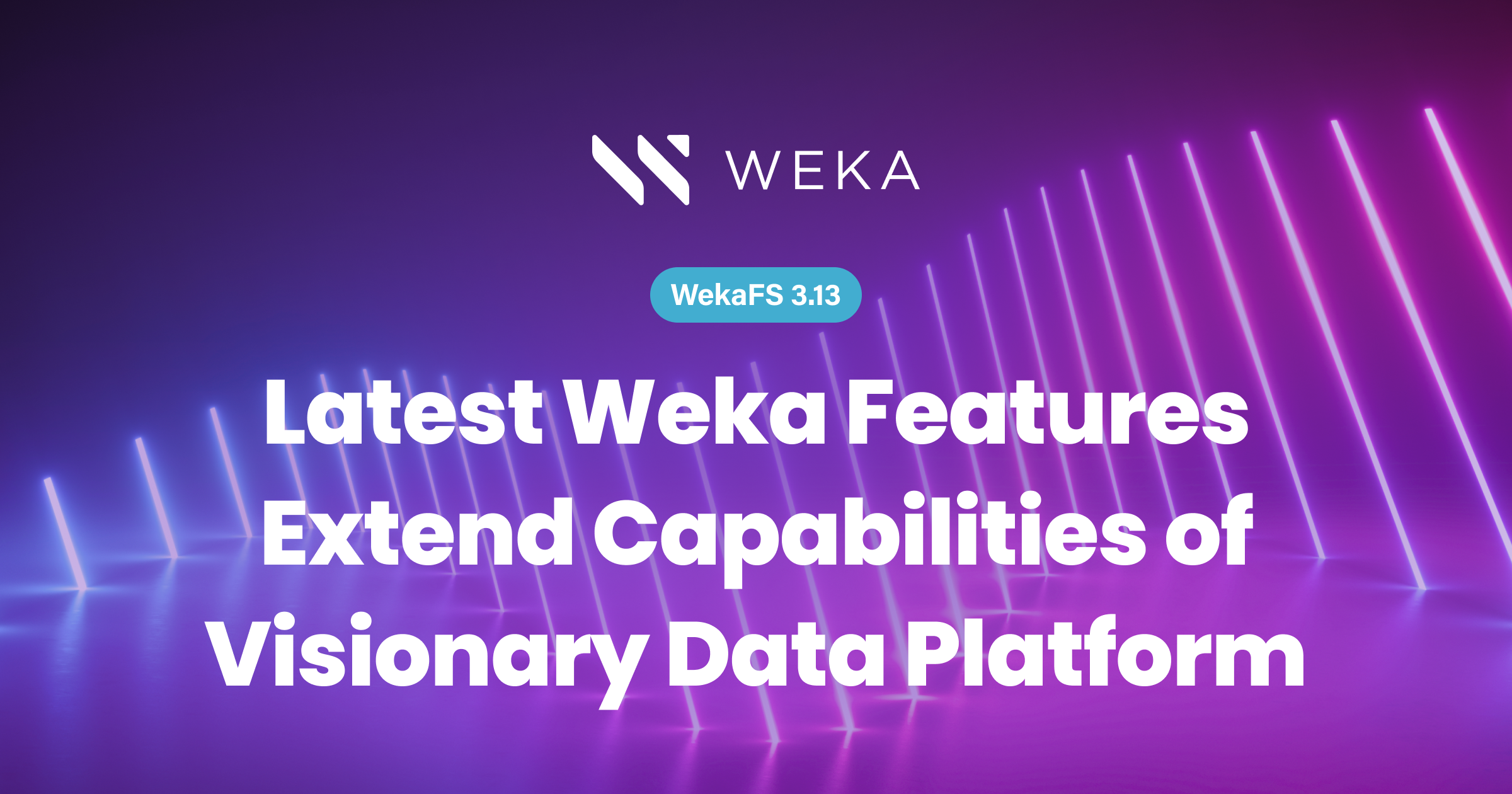 Over the last few years, Artificial Intelligence (AI) has gone from boutique science experiments to full-fledged enterprise deployments that are delivering new ways to serve customers and drive business. Companies of all sizes are now leveraging AI workloads to improve manufacturing processes, predict customer churn, optimize supply chains, hone technical systems design, and accelerate genomic research. They are deploying these projects in the cloud and on-premises based on different needs (and truthfully, a full discussion of the benefits of each deployment model will take at least another blog post).
But regardless of how they are deploying them, Weka™, the data platform for AI, delivers the performance, scale, and reliability demanded by today's enterprise AI workloads running on-premises, in the cloud, or bursting between platforms. Weka FS™ provides a single data platform that accelerates every stage of the data pipeline from data ingestion to cleansing to modeled results. And, our Zero Copy architecture eliminates the cumbersome and expensive need to copy data between each step of the pipeline.
Legacy high-performance processing storage architectures are constantly moving data from one storage system to another, (object storage for archival data, NAS for persistent storage, parallel file systems for fast storage) increasing complexity and management and slowing results with expanding data transfer times. With Weka's Zero-Copy Architecture, all data is local, putting an end to copying and accelerating workflows. With WekaFS, there is no copying of data (and travel time latency) from resource to resource. WekaFS also removes complexity and eliminates the high levels of expertise required to optimize next-generation workloads, plus the multiple resources that must be configured and constantly orchestrated independently—delivering a unique strategic advantage to Weka customers.
This week we released a new version of WekaFS that delivers enhanced capabilities for both cloud and on-premises deployments. These new capabilities enhance cloud support and provide more support for cloud-native and virtualized applications.
Elastic Cloud Scale
Customers take advantage of elastic scale available in the cloud by deploying our cloud-native storage solution. And with our new support for AWS EC2 Autoscaling Groups, they can get easy, on-demand, scaling-up of the cluster for peak demand periods and auto-scaling down when not needed. Amazon EC2 Auto Scaling automatically scales compute resources, but now, Weka FS is the only storage solution to also dynamically increase and decrease capacity as needed – saving money and increasing availability.
Cloud Economics for Backup
Now you can use Remote Backup to make copies to multiple S3 object stores for snap-data protection and cloud-bursting purposes. Now, for example, a daily snapshot can be stored to a local object store for quick and easy access, while a monthly snapshot is uploaded to a cloud-based object store for economical long-term archival. And to make it even more cost-effective, only the incremental differences between each remote snapshot can be uploaded, for both reduced network traffic and reduced capacity needed in the target object-store.
Cloud-Native Controls
Customers are increasingly deploying cloud-native applications leveraging container technology, like Kubernetes, to get shorter application lifecycles and more resilient, manageable, and flexible applications. But as these deployments increase, customers have asked for ways to help control the consumption of storage in the Kubernetes environment. Now, in addition to providing the creation and configuration of persistent external Kubernetes storage, the Weka CSI Plugin introduces resource quota management. Customers can set volume size and limit policies for tighter allocation control and to reign in unchecked storage consumption.
High-Performance Virtualized Applications
Our latest release also makes it easier and faster for Customers that are building AI pipelines on-premises when using virtualized applications. We now support VMXNET Generation 3 (VMXNET3), the most recent virtual network device from VMware. This allows for high-speed WekaFS operation with vMotion (vSphere) in a typical virtual environment. For the first time ever, you can now have HPC-level IO performance from your Virtualized applications while getting all the benefits of VM lifecycle management with vMotion.
All of these capabilities are available to current customers for AI and other Workloads at no charge by upgrading to WekaFS 3.13.