WEKA Changes the Game on the AWS Cloud
Extreme Performance at Scale Without Breaking the Bank
Key Use Cases
Financial Services
Health & Life Sciences
Media & Entertainment
Financial Services
Financial Services organizations rely on quantitative modeling
to help mitigate risk, detect fraud and develop new trading
algorithms. WEKA offers a modern cloud storage architecture
that delivers on-premises performance to the most demanding
I/O intensive workloads and latency-sensitive applications.
Used by leading quantitative trading companies, WEKA helps
them gain a competitive advantage and improve trading
outcomes.
Health & Life Sciences
Storing and analyzing large data sets in the cloud, whether it is
next-generation sequencing, imaging, or microscopy requires a
modern approach for faster insights and better economics.
WEKA accelerates time to insights by eliminating the
performance bottlenecks across the Life Sciences data
pipeline, while significantly reducing the cost and complexity of
managing data at scale.
Media & Entertainment
The AWS cloud is an ideal place to start your digital media production journey with infinite VFX compute and storage capacity at your fingertips to take on the biggest to
the smallest project. WEKA delivers the performance throughput to keep up with high frame rates and high bit-depth workflows. Artists can share a single data set between Mac and Windows applications – all served from a single data set. Built-in the AWS
cloud, it allows you to store your projects on S3 while getting the highest performance from its NVMe tier. Dropped frames become a thing of the past, play uncompiled or
unrendered content without a hiccup.
Learn more
Resources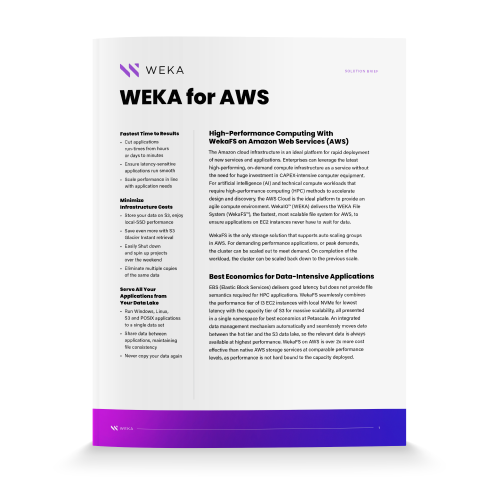 WEKA for AWS
Solution Brief