Industry veteran joins the company to steer strategy and product roadmap
CAMPBELL, Calif. – December 1, 2020 – WekaIO™ (Weka), the innovation leader in high-performance and scalable NVMe-optimized file storage, today announced that it has hired George Pamboris as Vice President of Product Management, who will be responsible for advancing the company's parallel file system's (WekaFS™) ability to help customers solve their biggest technology challenges. He reports directly to Weka co-founder and CEO Liran Zvibel.
Pamboris is a 20+ year veteran of the IT industry having served in executive leadership roles at companies including EMC, Hitachi Data Systems, Amazon Web Services, and Teradata. He worked for EMC Germany in several technical positions ranging from regional software specialist to NAS specialist for the EMC Celerra product line. After 5 years of product management positions in Germany and EMEA at Hitachi Data Systems, Pamboris moved to the United States to head up worldwide product management for core and emerging products before becoming Vice President of Technology. At AWS, he was senior manager of product management and a member of the product management leadership team which was responsible for the company's RDS portfolio, which included MySQL, MariaDB, PostgreSQL, MS SQL, Oracle, Aurora for MySQL, and Aurora for PostgreSQL. Pamboris joined the Teradata executive team as Vice President for the Analytical Ecosystem Product Management division, driving and owning the strategy and roadmap of the Analytical Ecosystem, including third-party integration and partnerships.
"I'm excited for the opportunity to help Weka continue to revolutionize the storage industry by developing a product that not only provides superior speed and capacity metrics but that truly improves customers' ability to leverage the value of their data by reducing TCO and increasing ROI through business outcomes," said Pamboris. "I've been fortunate to have had the opportunity to improve product lines at many top companies and recognize that Weka is well-positioned for its own success and to revolutionize the storage industry."
"George's passion for addressing the challenges faced by organizations today and for adapting to modern infrastructures and changing workloads made us recognize that he was the right person to lead Weka's product management," said Zvibel. "With a history of success across more than 20 years in the industry, we are counting on George to lend us his knowledge, talent, and expertise to help propel us to an even higher trajectory than we've been on thus far. We welcome him to the leadership team as we plan our product roadmap to deliver significant customer value to enable agile, accelerated data centers."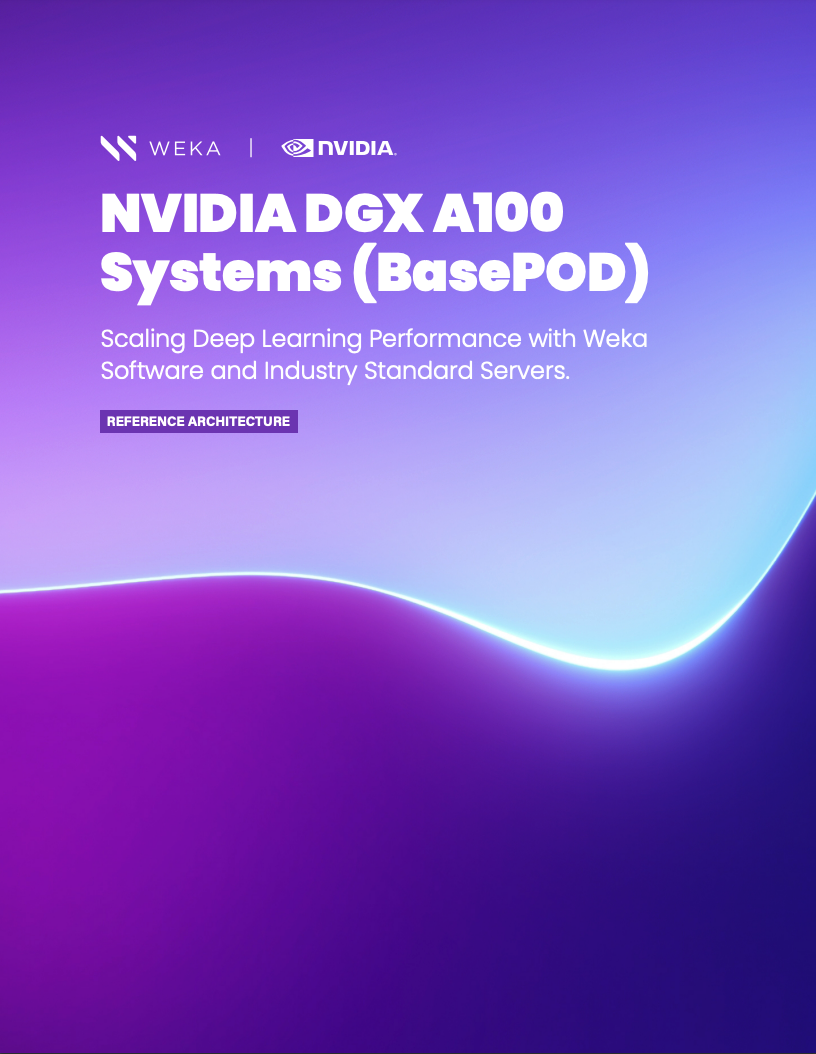 WEKA AI REFERENCE ARCHITECTURE WITH NVIDIA DGX A100 SYSTEM
Scaling Deep Learning Performance with Weka Software and Industry Standard Servers

For more information on the leadership team at WekaIO, go to https://www.weka.io/company/about-us/
About WekaIO
WekaIO (Weka) offers WekaFS, the modern parallel file system that is used by seven of the Fortune 50 enterprise organizations to uniquely solve the newest, biggest problems holding back innovation and discovery. Purpose-built to unlock the full capabilities of today's accelerated and agile data center, WekaFS is optimized for NVMe-flash and the hybrid cloud. Its modern architecture handles the most demanding storage challenges in the most data-intensive technical computing environments, delivering truly epic performance at any scale, enabling organizations to maximize the full value of their high-powered accelerators—GPUs and FPGAs. Weka helps industry leaders solve big IT infrastructure problems and extract more value from their data faster. For more information, go to https://www.weka.io/parallel-file-system
WekaIO, WekaFS, Weka AI, Weka Innovation Network, Weka Within, Weka AI logo, WIN logo, Weka Within logo, and the WekaIO logo are trademarks of WekaIO, Inc.
Media Contact
WEKA Communications
media.relations@weka.io