Weka Within shortens time to market with pre-established test lab for WekaFS with NVIDIA DGX A100 system and Western Digital® OpenFlex™ Data24
CAMPBELL, Calif. – November 17, 2020 – WekaIO™ (Weka), the innovation leader in high-performance, scalable file storage for data-intensive applications, today added another significant area of support for its server partner community with the launch of its "Weka Within™" validation and certification program, which easily provides manufacturers the ability to deliver innovative solutions that help customers accomplish their business goals.
Weka Within makes it possible for server partners to save time and money by certifying their newest hardware running the Weka File System (WekaFS™) with the NVIDIA DGX™ A100. Using a pre-established testing protocol developed by WekaIO and a pre-configured test system in an advanced test lab, hardware can be validated quickly and efficiently by authorized experts enabling faster time to market and delivery of reference architectures (RAs) and sales tools that accelerate pipeline and revenue.
"Weka Within is a symbol of guaranteed quality that indicates to customers that hardware will work in data-intense environments as designed and as promised," said Ken Grohe, President and CRO at WekaIO. "We are pleased to have the opportunity to provide this recognition to our server partners who are looking to deliver the highest performing solutions that customers demand. By successfully completing interoperability and compatibility testing through the Weka Within program, hardware providers can quickly and readily sell products in the marketplace, with customers having the ultimate peace of mind that the integration solution will perform to the highest standards."
As the only program of its kind available from a high-performance, scalable parallel file system provider, Weka Within certification and validation is a designation of interoperability and compatibility, functionality, and performance of hardware that meets Weka's exacting standards for next-generation storage systems designed for I/O-intensive workloads. Qualifying solutions through Weka Within helps OEMs drive customer adoption by providing customers peace of mind when deploying modern storage infrastructures complete with WekaFS software.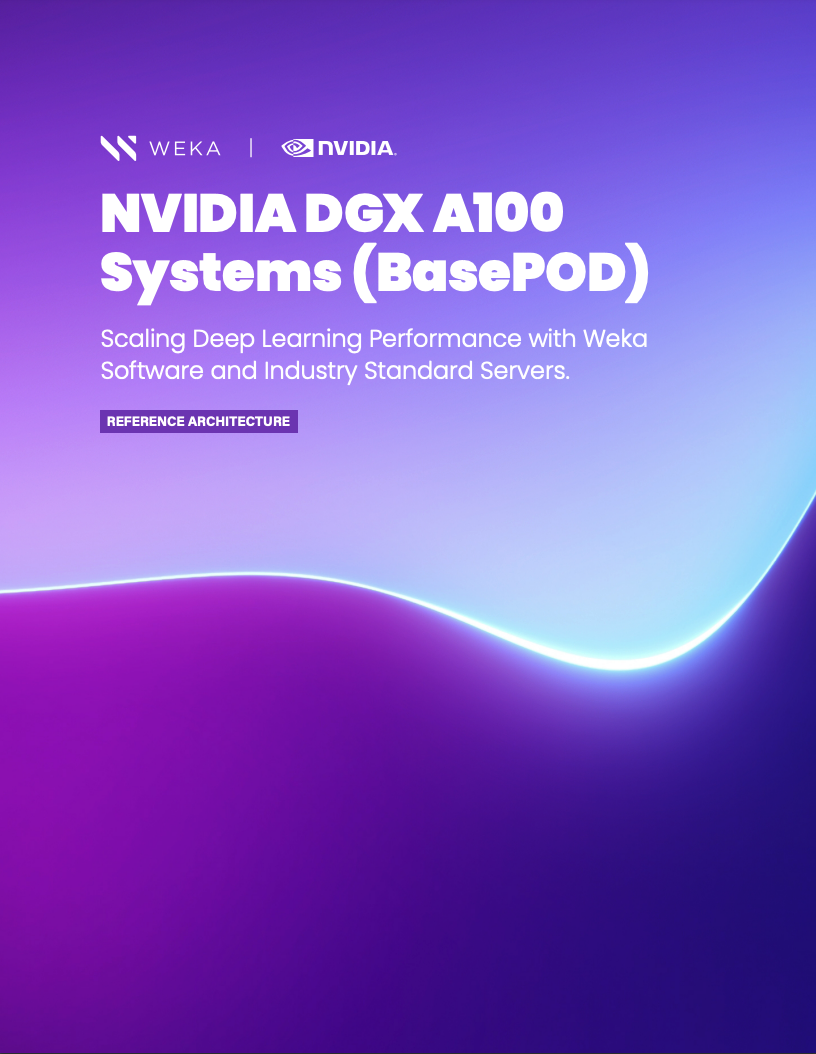 Weka AI Reference Architecture with NVIDIA DGX A100 System
Scaling Deep Learning Performance with Weka Software and Industry Standard Servers

WekaFS software is architected to deliver the lowest latency and highest bandwidth to speed I/O for AI training, ensuring each GPU in the DGX A100 system is fully saturated with data. WekaFS is ideally suited for performance-intensive workloads such as artificial intelligence/machine learning (AI/ML), deep learning (DL), data analytics, life sciences research, financial modeling, log management, engineering development, and government/university research.
"Enterprises use the NVIDIA DGX A100 to meet the rigors of AI development fueled by ever-increasing datasets and massive computational power," said Tony Paikeday, Senior Director DGX Systems at NVIDIA. "With the 'Weka Within' validation and certification program, storage OEMs can build WekaIO-based products that meet the performance requirements of the DGX A100, the world's leading AI system, and shorten their time-to-market."
Qualified solutions have the opportunity to incorporate the Weka Within logo on their offerings to indicate that their hardware has been stress tested with multiple applications and is ready to provide organizations with the ability to maximize the full value of their high-powered IT investments.
"Western Digital has teamed with WekaIO and NVIDIA to validate the combined power of our new OpenFlex Data24 NVMe-oF™ Storage Platform with WekaFS and NVIDIA DGX A100 to deliver scalable performance to meet the ever-increasing demands of AI workloads. With the Weka Within certification, our customers are ensured that the OpenFlex Data24 has met rigorous testing standards for performance and interoperability," added Scott Hamilton, Senior Director of Product Management and Marketing at Western Digital Corporation.
"The Weka Within certification program helps us deliver an unprecedented customer experience by validating and benchmarking our Penguin Computing ActiveData™ platform running the Weka File System on NVIDIA DGX A100. With 12 NVMe drives per node, our joint solution is a complete turnkey high-performance file-based storage solution that is highly scalable and easy to deploy, configure, manage, and expand," added Kevin Tubbs, PhD , SVP Strategic Solutions Group at Penguin Computing.
Additional resources:

About WekaIO
WekaIO (Weka) offers WekaFS, the modern parallel file system that is used by seven of the Fortune 50 enterprise organizations to uniquely solve the newest, biggest problems holding back innovation and discovery. Purpose-built to unlock the full capabilities of today's accelerated and agile data center, WekaFS is optimized for NVMe-flash and the hybrid cloud. Its modern architecture handles the most demanding storage challenges in the most data-intensive technical computing environments, delivering truly epic performance at any scale, enabling organizations to maximize the full value of their high-powered accelerators—GPUs and FPGAs. Weka helps industry leaders solve big IT infrastructure problems and extract more value from their data faster. For more information, go to https://www.weka.io/parallel-file-system
WekaIO, WekaFS, Weka AI, Weka Innovation Network, Weka Within, Weka AI logo, WIN logo, Weka Within logo, and the WekaIO logo are trademarks of WekaIO, Inc.
Media Contact
WEKA Communications
media.relations@weka.io