CAMPBELL, Calif. – February 1, 2021 – WekaIO™ (Weka), the fastest-growing data platform for AI/ML, HPC and analytics, FinServ, and life sciences research, today announced that CRN®, a brand of The Channel Company, has named WekaIO as one of its 100 Coolest Cloud Companies for 2021. This annual list recognizes the leading cloud technology providers in five critical categories: infrastructure, monitoring and management, security, storage, and software.
This year's 100 Coolest Cloud Companies were selected by the CRN editorial team based on their demonstrated commitment to working with channel partners and their innovation in product and service development. CRN's 100 Coolest Cloud Companies list not only honors exceptional technology suppliers, but it has become a trusted resource for solutions providers looking for cloud technology providers to partner with—presenting a list of the companies best positioned to support their cloud service's needs.
"The hallmark of hybrid cloud solutions is to provide a seamless bridge between disparate data centers and the public cloud for five primary use cases: DR, burst for capacity, burst for compute, data orchestration, and storage standardization. WekaFS ensures that our users can maximize the benefits of cloud services when confronted with the demands of these use cases," said Ken Grohe, President and CRO at WekaIO. "This is why our cloud business has increased 350 percent year over year, and as a company that solely sells through the channel's top solution providers, we thank our partners for their success serving these customers."
Weka's modern data storage platform was architected to accelerate I/O to CPU and GPU-enabled compute clusters, whether the data resides on premises, in the public cloud, or in a hybrid of both. Powered by the Weka File System (WekaFS™), the platform delivers a full enterprise grade solution with all of the features found in legacy solutions, while providing a future-ready platform with extensibility to the cloud.
"Hybrid and multi-cloud integration are among the biggest challenges facing our enterprise customers. They are looking for high-performance storage solutions that deliver seamless interaction from edge to core. We have partnered with WekaIO to deliver a fast, scalable, and globally accessible data tier to our customers in our ActiveData NVMe storage solution. Our partnership with WekaIO enables us to reinvent static concepts of data tiering to include the on-premises hybrid and multi-cloud targets that comprise today's IT architectures," said Matt Jacobs, Chief Strategy Officer at Penguin Computing, a WIN Innovator Partner. "Weka's recognition from CRN and The Channel Company is as meaningful to us as it is to Weka because it validates that we chose the right company to help deliver the right cloud solutions and services to our joint customers."
"Cloud services are quickly becoming the critical components needed to build successful and secure IT solutions," said Blaine Raddon, CEO at The Channel Company. "The honorees on this year's 100 Coolest Cloud Companies list have proven that they support partners in the ever-evolving cloud computing business with leading innovative solutions and growth in cloud-based technologies. Our team applauds those on the list for 2021 and looks forward to watching them drive positive change in the cloud domain."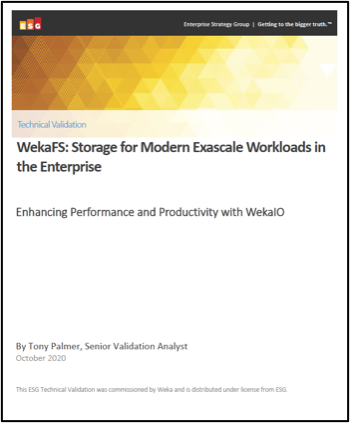 Enterprise Strategy Group Technical Report
Independent report of WekaIO enterprise capabilities

CRN's 100 Coolest Cloud Companies list will be featured in the February 2021 issue of CRN and online at www.crn.com/cloud100.
WekaIO has received multiple industry and editorial awards in the past few months including Flash Memory Summit Best of Show, TechTarget Enterprise Data Storage Product of the Year Award, AI Excellence Award, Aragon Research Hot Vendor in AI, and is a finalist for Storage magazine and SearchStorage Product of the Year.
About The Channel Company
The Channel Company enables breakthrough IT channel performance with our dominant media, engaging events, expert consulting and education and innovative marketing services and platforms. As the channel catalyst, we connect and empower technology suppliers, solution providers and end users. Backed by more than 30 years of unequalled channel experience, we draw from our deep knowledge to envision innovative new solutions for ever-evolving challenges in the technology marketplace. www.thechannelco.com. Follow The Channel Company: Twitter, LinkedIn and Facebook.
About WekaIO
WekaIO (Weka) offers a Limitless Data Platform that is used by eight of the Fortune 50 enterprise organizations to uniquely solve the newest, biggest problems holding back innovation and discovery. The data platform is powered by WekaFS, a parallel file system purpose-built to unlock the full capabilities of today's accelerated and agile data center that is optimized for NVMe-flash and the hybrid cloud. Its modern architecture handles the most demanding storage challenges in the most data-intensive technical computing environments, delivering truly epic performance at any scale, enabling organizations to maximize the full value of their datacenter investments. Weka helps industry leaders solve big IT infrastructure problems and extract more value from their data faster. For more information, go to https://www.weka.io/parallel-file-system
WekaIO, WekaFS, Weka AI, Weka Innovation Network, Weka Within, Weka AI logo, WIN logo, Weka Within logo, and the WekaIO logo are trademarks of WekaIO, Inc.
Media Contact
WEKA Communications
media.relations@weka.io