WEKA named to the Leader's Circle by GigaOM
Phil Curran. January 6, 2023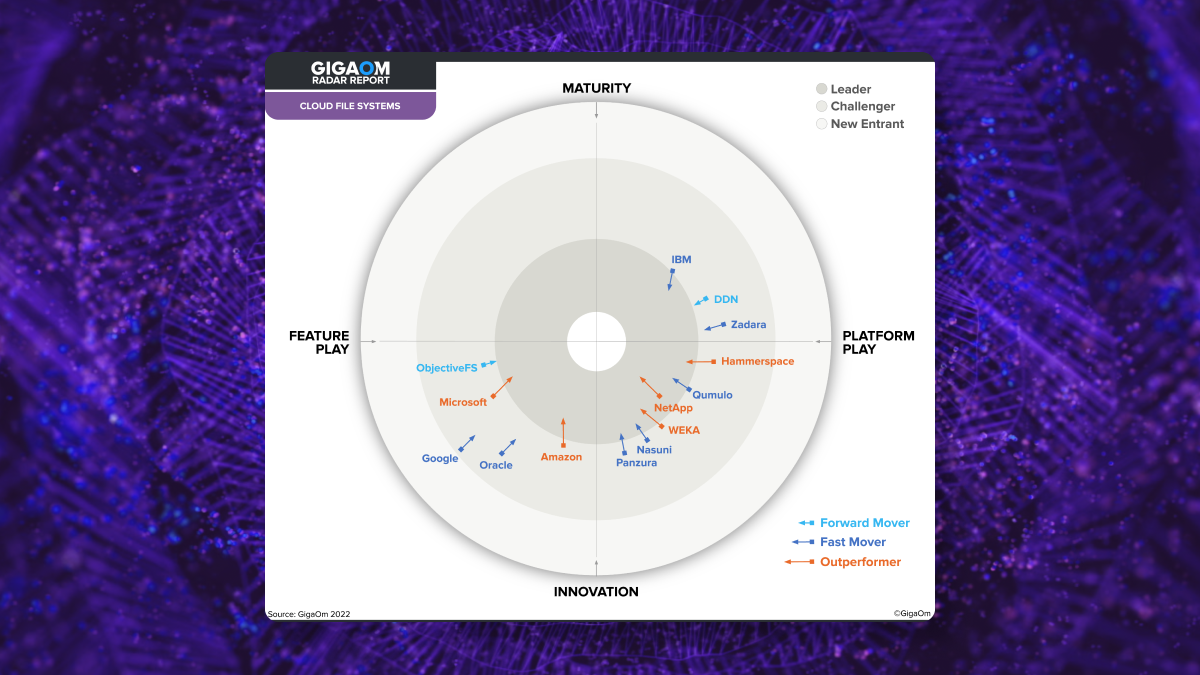 Welcome to the Leader's Circle
I'm pleased to share that this year, GigaOm has named WEKA to the "leader" circle in their 2022 Radar Report for Cloud File Systems.
The GigaOm Radar Report for Cloud File Systems provides an assessment of vendor solutions for file-based cloud storage. The report highlights key cloud file systems vendors and equips IT decision-makers with the information needed to select the best fit for their business and use case requirements. GigaOm calls out the key advantage for customers using WEKA: "The WEKA Data Platform still remains a solution of choice for high-performance workloads such as AI/ML, HPC, and HFT."
This report is an important asset for any organization considering how to deploy next generation workloads, adopt the right cloud deployment model that fits their needs, and deal with continued rapid growth in data. We talk to customers every day who are dealing with this triple threat of challenges, and they tell us these are not separate and distinct issues. Rather these are self-reinforcing initiatives that can either take an organizations' mission to the next level, or leave it as digital transformation roadkill.
Next generation workloads built on microservices architectures using devops delivery methodologies help teams deliver new applications much faster. Organizations can use this approach to iterate and build new offerings or add capabilities to existing services in a fraction of the time that was traditionally possible. However, next gen workloads also demand incredible speeds in terms of sub-millisecond latency, TBs of throughput, and millions of IOPs.
As customers consider migrating to, or building these workloads in, the cloud, they've historically had to compromise between speed, scale, simplicity, and cost. In the cloud, customers can get massive scalability and an integrated, easy to use solution, but miss the mark on performance, and cost. While in traditional data center deployments, they can optimize and tune the infrastructure to get amazing speed, at a manageable cost point, and with poor scalability.
In our conversations with customers, we've found that choosing the right data platform is one of the keys to success. The right data platform should deliver the blazingly fast performance demanded by next gen apps, the scale of the cloud, and affordable economics. The data platform you select should also provide a consistent user experience across any deployment model either in a traditional data center, at the edge, or in any cloud deployment.
This is exactly the vision our founding team at WEKA had when they started the company, and it continues to be the north star that guides everything we do. So we're both gratified and humbled that the team at GigaOm recognizes the progress we've made. And we're excited to share this news and work with all our customers to break free from traditional storage systems and help them accelerate their own journey on The WEKA Data Platform.
Popular Blogs From Phil Curran