Optimize The Most Demanding Media Workflows Without Constraints
Are your animation and visual effects projects pushing your performance limits? Whether its Premier Pro or DaVinci Resolve projects that require 8K 12-bit DPX format with multiple concurrent streams of high definition, or optimizing the VFX phase of your 3D animation pipeline, the WEKA Data Platform eliminates problems like playback scrubbing bottlenecks, while significantly reducing the complexity of managing high-performance media file services at scale.
Autodesk Flame on-demand? WEKA's ready!
Remember when it used to take weeks of effort and massive up-front costs to provision Flame for a new studio. Now with Flame on the Cloud and WEKA in AWS, quickly spin-up new Flame instances on-demand. The procurement of Flame suite hardware once limited a studio's ability to scale. Now using cloud resources, collaboration is no longer constrained, allowing artists to quickly iterate on new projects and leverage Project Server and Autodesk Backburner.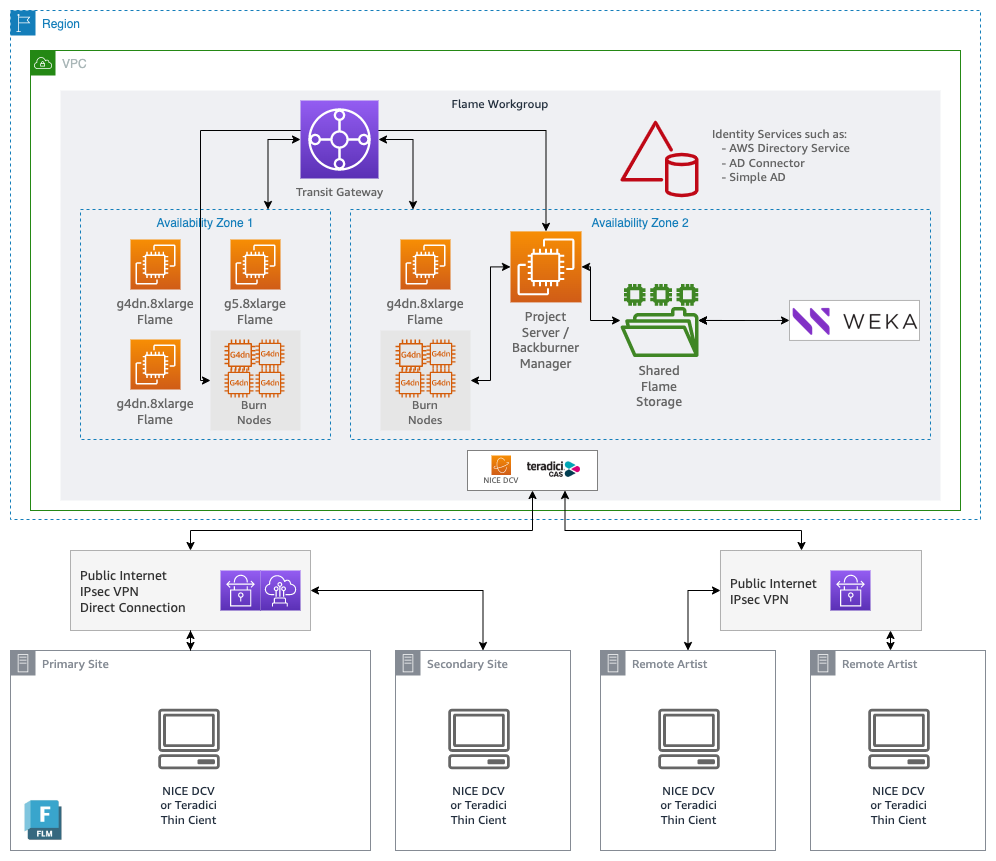 I looked at a lot of storage systems in AWS and chose WEKA because of the ability to tier to S3 storage for best cost given the volume of data we are creating. But ultimately the level of support that WekaIO gave was the deciding factor.
Samuel Reid, Head of Technology, Untold Studios
Watch Now
The ability to just hit 'play' in front of a customer and display uncompressed rendered content from shared file storage without a hiccup has been a pipe dream within the industry for a long time—and being able to do that from centralized data on WEKA is a is a huge win for us.
Alan McSeveney, Head of Technology, Preymaker
Read More
Start Building Your Studio-in-the-Cloud with AWS
Amazon has collaborated with WEKA to create a cloud native "studio-in-the-cloud" managed service that provides workstations on-demand to allow artists to quickly and easily spin up a production environment, all without having to become expert on cloud deployment. Under the hood, AWS manages the physical infrastructure, artist tools, security, compliance, networking, and storage needs, delivering a real-time feel from a virtual workstation. Artists can collaborate on shared projects across the globe, from London to New York to Toronto to LA to India, without the friction of on-premises environments. WEKA has teamed with Nimble Studio to offer the WEKA Data Platform on the AWS cloud. With support for NFS, SMB and native POSIX, artists can share a single project across a multiple of users and applications, with full file locking for security.
Start Accelerating Your Media and Post-production Workflows
get started