HPC & AI on Wall Street: WekaIO™ Sets 8 New World Records on the STAC-M3™ Benchmark
Barbara Murphy. September 11, 2019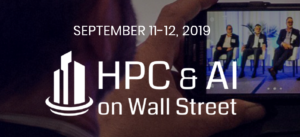 Back in June, we announced our record-breaking performance on the STAC-M3TM benchmark with an integrated solution with Penguin Computing – the FrostByteTM storage solution with WekaIO. This solution delivered record-breaking performance at scale for the STAC-M3 "Tick Analytics" Benchmark, affirming that it's the ideal choice for algorithmic trading and quantitative analysis workloads common in financial services
The results were astounding, as we achieved 8 new world records for mean query-response times and 4 world records for throughput. Our joint solution was running Kx's time-series database, kdb+, commonly used for large scale complex analytics on streaming, real-time, and historical datasets. In the financial industry, typical kdb+ applications are for algorithmic trading, backtesting (trading algorithm validation), surveillance, regulatory and compliance reporting, and research environments. These workloads can demand a lot from the file system, and we certainly made a statement with these results!
So that background brings us to this week, as we are gearing up for the HPC & AI on Wall Street event in New York on Sept 11-12, and hope you will stop by and see us if you happen to be there (Table 202!). This will be a great event, bringing together thought leaders and industry frontrunners to share experiences and strategies that are setting the standards for Capital Markets today and in the future. We are looking forward to the opportunity to engage with advanced scale technology buyers to discuss how WekaIO can help, and provide more details on the STAC-M3TM results I mentioned above.
What else will we be talking about at HPC & AI on Wall Street? For starters, how WekaIO can help Financial Services organizations modernize their infrastructures with the performance they need to meet ever-increasing demands, security for their important data, and the agility needed to operate in a hybrid cloud world.
Additionally, we'll be joined at the event by our partner, Western Digital (@westerndigital). We'll be hosting a cocktail reception on Wednesday evening, Sept 11th, from 5:30-7:30 pm. If interested, you can register here. We can talk to you about how you can shrink the clock time for trades up to 7x compared to legacy all-flash NAS solutions, how to secure data both at rest and in-flight over the network, and how WekaIO can help you operate across public and private clouds, burst to the cloud for on-demand resources, and seamlessly share data across your entire organization with a single, global namespace and tiering to WDC's ActiveScaleTM object storage.
We're looking forward to a great week and event in New York City! If you aren't in the area, you can get more information about how WekaIO can help modernize your FinTech infrastructure here.
POPULAR BLOGS FROM Barbara Murphy