Moving On Up to the Cloud
WEKA. October 22, 2019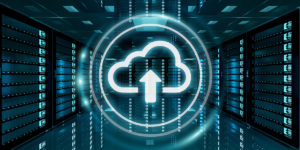 Andy Watson, Chief Technology Officer at WekaIO, shares his thoughts on the movement to cloud storage in this blog titled "Moving On Up to the Cloud."
On September 24, 2019, I delivered a keynote presentation to kick off the data storage section of the Next I/O Platform event in San Jose. Here's a link to the video of that keynote. The original idea for this blog was to parallel that presentation, but in light of a recent publication I just became aware of, I'm going to change things up here.
In the keynote, I thought I might stimulate conversation at the event with a mildly controversial proposition: that there has long been an ongoing persistent trend in favor of moving ever more data storage to the public cloud and away from on-premises data centers. I started out by observing that for the past 10+ years there has been a persistent quarter over quarter, year over year decline in both unit volume and revenue across all vendors in the storage systems industry that corresponds to the continuous growth of the public cloud. Beginning with AWS launching S3 in 2006 (followed by Google Cloud Platform in 2008, Microsoft's Azure in 2010, and IBM's Cognitive Cloud in 2011) customers have had a growing list of places to put their data where prices keep dropping even as capabilities continue to expand — including Enterprise-relevant features like geo-replication, improved availability, encryption, and tiering.
You can watch the video for all the details, but in a nutshell, my thesis is that this tectonic shift in the storage market has occurred despite the fact that the cloud hyperscalers have only been able to offer compelling platforms for object and block storage. All along, cloud-based file storage has been mediocre. Yes, many new "cloud-native" apps are written specifically for the superb object storage which is the principal storage layer for every hyperscaler. And plenty of databases can do the heavy lifting for the otherwise-relatively-easily-scaled raw block storage provided in the cloud. But the majority of the rest of the universe of applications — especially the legacy of software written over the past three or four decades — expect a POSIX-compliant filesystem.
2018 was the year that AWS apparently realized that although its S3 object store is swelling with exabytes and its EBS is also home to massive quantities of customer data, its EFS has not been capturing a similar proportion of the addressable market. Without any explicit public acknowledgment of weakness, at the November 2018 AWS re:Invent conference, Amazon announced both FSx Lustre and FSx Windows, two new file storage alternatives. (And I'd like to think that they were inspired to act by observing WekaIO's Matrix™ filesystem running on the AWS Cloud.)
Seeing all this file-based activity on AWS, Google was perhaps motivated to do something about its own lackluster file-based storage capability, and in 2019 GCP acquired Elastifile while also welcoming both Quobyte and Panzura into its Marketplace. It remains to be seen what Azure and IBM might specifically do, but across all of the hyperscalers, the NetApp Cloud Volumes Service (file-based) offering has also become available this past year.
In summary, as bleak and frustrating as it has been for the on-prem storage systems vendors to watch their business being devoured by the Cloud, my prediction is that this trend is about to intensify. What changed after my keynote is that I became aware of a recently-published study by Thales Security showing that 48% of corporate data is now stored in the Cloud versus 35% only three years ago. I wish I'd been able to quote that statistic during my talk!
Think about that: an increase of 13% in only three years — without any respectable file storage in the Cloud. And in 2019 we have seen multiple significant new cloud file storage offerings show up. And with WekaFSTM, the world's fastest filesystem, which is also growing in market awareness since 2018, available both in the cloud and on-prem (or spanning both, facilitating hybrid cloud deployments), customers interested in leveraging storage in the cloud (for whatever combination of reasons) will continue to have a clear path forward — breaking the barrier even for file-based applications!
To learn more about WekaIO and cloud file storage, click here.