WekaIO

Now Covers Your NAS with NFS Tiering
Barbara Murphy. August 24, 2017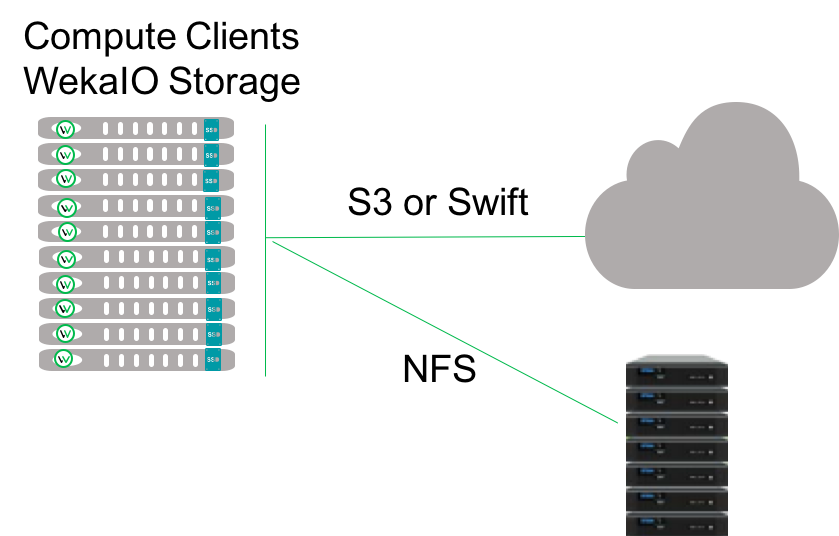 Product management is the discipline of analyzing a market and creating the product vision that will deliver the most highly differentiated value proposition to satisfy customer demands.  When we set out to build the next great file system, we looked for differentiation that had not been addressed by the market.  We polled customers and gathered their requirements, they wanted more performance (Flash), scalability (think Google file system) but at cloud economics (S3). We went back to our engineering teams and built a great file system that runs natively on SSD because file structures built for hard disk drive will never be able to take full advantage of flash capability.  Secondly we delivered cloud economics by running hyperconverged on any commodity server infrastructure and seamlessly tiering to S3 for unlimited data scaling and long term storage.  We developed data protection schemes that do not waste expensive SSD capacity as triple replication does.  The resulting product, WekaIO Matrix, is elegant, high performance and radically simple.
What We Heard Customers Ask For
Bingo!  We checked off every customer requirement but did we get it right? The rubber really hits the road when you get into the POC and design-in stage because the pragmatic reality of today meets the aspirational goals of tomorrow… and this is where the listening comes in. We learned that we had not asked customers in the discovery period "How do you buy servers and storage?".
When we met with customers they loved the product deployment model, performance and simplicity. But we also learned that frequently the buying cycle for server infrastructure is staggered with storage infrastructure to manage annual budgets, so the performance tier would be in 2017 budget, while there was no budget for object storage. Meanwhile our design was rendering (no pun intended) a whole rack of NFS based NAS obsolete because our hyperconverged performance was so great.  It took a few more customer calls to validate the trend, but we are happy to announce that you can now utilize all the NAS that is a sunk cost and would otherwise be nothing more than a boat anchor in your data center.
What Customers Really Needed
POPULAR BLOGS FROM Barbara Murphy