Here We Go Again! (Andy Watson Is Looking Forward To 2020!)
Andy Watson. December 24, 2019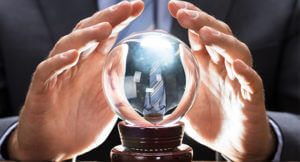 Andy Watson, Chief Technology Officer at WekaIO, shares his predictions for the new year in this blog titled "Here We Go Again!  (Andy Watson Is Looking Forward To 2020!)".
It's December, and that's the time of year when… People drink pumpkin-spiced lattes and eggnog?  Arguments break out over the merits of staying on Daylight Savings Time year-round? HR departments worry about shenanigans at alcohol-fueled holiday parties? Yes, yes, and yes! But it's also the time of year when CTOs like me get asked for predictions about the imminent new year.
A common response to these requests is to repackage Marketing Department messaging, positioning your own company and products as the center of attention. The whole industry will shift tectonically in the new year, a revolution impossible without the leverage provided by the fulcrum of your uniquely differentiated fabulous portfolio of products, features, and services! Even if true, making these kinds of claims will unavoidably reek of biased self-promotion. And from the perspective of the publishers who asked for these predictions, the other problem is that it will all be very boring. Potential customers will identify these as infomercials in the first paragraph, and few of them will continue reading. So why bother?
"That's kind of like how jazz is sometimes.
You're out there predicting the future, and no one believes you."
— Branford Marsalis
This is why in my own prognostications, I try to step back and look at the broader industry context. Where I do mention WekaIO, I keep it relevant to the larger-scale industry transformations which are the primary focus. So far this year I've been quoted in Network World, gazed into my 2020 crystal ball for VMblog.com, and provided my predictions for the new year to Storage Newsletter.
Aside from what you can read at those web pages, I have other thoughts on the specific topic of WekaIO itself in 2020. I think you can confidently count on the World's Fastest File System to continue saturating the fastest networks, even with a single mount point, while delivering exact linear scaling as capacity grows to however large you need it to be. Having demonstrated at SC19 the industry's most robust implementation of GPU Direct Storage in support of NVIDIA's Magnum IO, we'll be setting the pace for high-performance applications by removing IO bottlenecks. And having achieved a record-breaking world's best IO500 benchmark result with our WekaFSTM file system running on AWS, we have shown that we can offer our customers the flexibility to deploy both on-prem and in the cloud.
A couple of the other things I would love to "predict" for WekaIO in 2020 are still under wraps, and so for now, all I can foretell is that there will be several very significant product announcements…
Now I've got to go track down a slice of pumpkin pie!
POPULAR BLOGS FROM Andy Watson